A9UC700657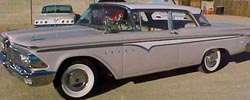 Dataplate specifications
Ranger, 2-door sedan, Desert Tan with Snow White
Buff vinyl/gold cloth interior

223 Econo-Six, 3-speed manual transmission
Edsel number 700657 manufactured in Louisville, KY
---
Information as of: January 2002

Owner: Dean
Location: Scottsdale, Arizona
Owned since: unknown Mileage: 75,000
Condition: Runs and drives well
Originality: Stock, with add-on aftermarket gages Accessories included: Radio, Wheel Covers, Padded Dash Notes:
The main body has been repainted in a very professional manner. The white top is still in its original white. The body is very straight and presentable, no damage. The bumpers looks like they have been replated because they are in extraordinary condition. All the stainless and pot metal is in great shape, no pitting or corrosion. Still shines as it should.
The front grill mouth is just about perfect. The original glass including the windshield is in very nice condition. The hubcaps are in amazing original condition, they are the optional full wheel discs. The car has the proper wide white wall tires and have been used very little. The trunk is detailed with carpeting, has the jack equipment and spare tire. The engine compartment is very clean and showable, finished in the proper colors. You can show this car with the hood open. Amazingly, the original interior is in superb condition for being 42 years old. There are no tears etc. The seat material is great, still has all the silver piping around the seats, and it is all intact, not frayed at all. The headliner is beautiful. The seat material is bright and clean, and the dash is very very nice, not all scratched up etc. The padded dash pad has no cracks and is in exceptional condition. No pitting in the dash, all the guages are clear. The door panels and arm rests are very good. The rear package tray does have some discoloration. I would imagine the carpet has been replaced because it is just to nice for the age of the car.
This car has always been very well maintained. This is not a beater in any sense of the word. In the last 150 miles the following has been serviced to a cost of approximately $3,300.00: New shocks, new brakes including wheel cylinders, rebuilt carb, reconditioned radiator, reconditioned fuel tank with a new guage and sending unit, new battery, repaired wipers, new exhaust,complete tune up, new starter, some new bushings, new fuel hoses and filters, new front brake hoses, and some more miscelleaneous items. It runs and drives beautifully. The only negative is that there is a slight thorw-out bearing noise that only happens when you first drive it - it goes away after a couple of minutes.
---
©2000 BE All Rights Reserved