B9UR700164 <!- Second line -->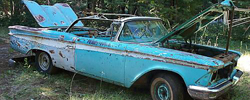 Dataplate specifications
Corsair, convertible, Light Aqua with Snow White
White/Dark Aqua vinyl interior

332 Express V8, Mile-o-matic 2-speed transmission
Edsel number 700164 manufactured in Louisville, KY
---
Information as of: September 2009

Owner: J Wilson
Location: Hemet, Calofornia
Owned since: August 2009 Mileage: 75,000
Condition: In restoration
Originality: Stock, with some updated parts Accessories included: unknown Notes:
Restoration well under way. This car was in much better condition then most of the other cars I have started with in the past.
---
Information as of: July 2009

Owner: unknown (online auction car)
Location: Shasta Lake, California
Owned since: unknown Mileage: unknown
Condition: Salvageable
Originality: Stock Accessories included: Power Brakes, Whitewall Tire Notes:
Most of the parts/trim seem to be there. It has some rust in the floors, most of the motor is there, but we haven't found the carburetor. No major body damage, just a bump in the back under the bumper. The trunk doesn't look too bad as far as rust. I haven't noticed any rust holes there. The dash is basically complete, convertible top motors are even there! I'm not saying they work, but they are there.

All upholstery (door panels, seats, carpet, convertible top) is either too far gone for restoration, or just plain gone. The car rolls, it steers, unsure of brakes. Obviously it doesnt run but that needs to be said. The entire grill/headlights are close to mint condition, I think. The trim pieces have either tiny bends or dents in them (easily repairable).
---
©2009 Edsel.com All Rights Reserved