W8UT731920 <!- 79D MNN AU 18UD 4 B -->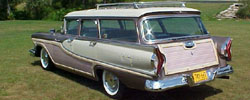 Dataplate specifications
Bermuda, 4-door 6-passenger wagon, Charcoal Brown Metallic with Driftwood
Driftwood vinyl/jug cloth interior

361cid E-400 V8, Teletouch automatic transmission, 3.22:1 axle ratio
Edsel number 731920 manufactured in Louisville, KY on July 18, 1957
---
Information as of: August 2007

Owner: unknown (online auction car)
Location: Western New York
Owned since: unknown Mileage: 2,500
Condition: Museum piece
Originality: unknown Accessories included: Air Conditioner, Teletouch Automatic Transmission, Station-seeking Radio, Power Antenna, Power Steering, Power Seat, Power Windows, Power Brakes, Whitewall Tires, Wheel Covers, Tinted Glass, Padded Dash and Sun Visors, Two-tone Paint, Windshield Washer, Hooded Side Mirror, Courtesy Lights, Back-up Lights, Full Warning Lights, Roof Rack Notes:
This car is unlike any you have ever seen. This fully factory optioned California car underwent a recent complete rotissary restoration. The underside looks as good as the top with factory correct paint and sound-deadening applied to the undercarriage the same as when it was built new. This car comes equiped with the extremely rare and correct deluxe "brown jug saran" interior with correct color co-ordinating carpets and rear decking. The woody trim and panels were maticulously done to simulate factory. Every part, bolt and screw was removed from entire car. Where possible NOS parts were used in the restoration, lenses, antenna, mechanicals and others too numerous to list.

This car has won many prestigious awards such as American Staion Wagon Owners Assosiation, Best in Show: International Edsel Club, Peoples Choice, First Place: Clutch Artists Autorama, Best Restoration and many others. This car is no Trailer Queen. It has been driven to every show and meet it has attended (2500 miles). I would drive it anywhere, heck it's new!

E-400 motor, transmission and all electrics and mechanicals were professionally rebuilt to factory specs. I have several other Edsels to build but limited space. I've had lots of fun with it and it's time to let someone else enjoy what is truly the most pristine example of a Bermuda wagon on the road today, and more than likely ever will be.
---
©2007 Edsel.com All Rights Reserved