W8UF731552 <!- 58A LEL A -->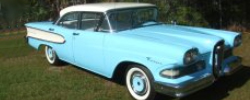 Dataplate specifications
Ranger, 4-door sedan, Spruce Green Metallic with Snow White
Green cloth interior

361cid E-400 V8, 3-speed/overdrive transmission
Edsel number 731552 manufactured in Louisville, KY
---
Information as of: April 2012

Owner: Robert Cerame
Location: Port Orange Florida
Owned since: March 2012 Mileage: 99,421
Condition: Drives Well / Show Car
Originality: New interior, exterior color change Accessories included: Power Steering, Radio Notes:
The car runs and drives great and has recent paint, excellent original chrome, new tires, and a redone (if incorrect ) interior. It is now painted Powder Blue and Snow White. It is still the original 361 with overdrive and power steering, real nice trunk compartment, etc. Neat car!
---
Information as of: July 2002

Owner: David Burns
Location: Wenatchee, Washington
Owned since: 2000 Mileage: 96,000
Condition: Drives, but needs restoration
Originality: All parts are factory authentic for the car Accessories included: Radio, Padded dash Notes: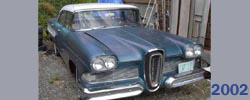 Car is located in Wenatchee Washington (very dry climate) - has no rust and chrome is in really good condition. This car was owned by a gentlman here in town that actually had two Edsels at the time of his death a couple of years ago. Up until that time the car was driven regularly. Has new muffler and the motor starts and idles smoothly. Engine is the E-400 and is complete and runs good. Interior is sunbaked. Headliner has several holes the size of a quarter. Odometer shows 96,000 which is the original mileage. Glass is all good, as far as I can tell the car is very complete except for the hood ornament. The paint actually comes back pretty well when you wax it, but it is well worn around each window. The dashboard looks like it used to have a padded dash, but that is gone. The radio works!
Overall, I would rate it a solid 4 according to the rating guide on this website. It could be driven as is, or restored easily with a paint job and some upholstery work.

---
©2012 Edsel.com All Rights Reserved