W8UT729445 <!- 79C GEE BB 16D 4 B -->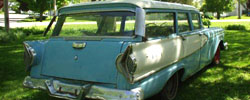 Dataplate specifications
Villager, 4-door 6-passenger wagon, Horizon Blue with Snow White
Blue/White vinyl interior

361cid E-400 V8, Teletouch automatic transmission, 3.22:1 axle ratio
Edsel number 729445 manufactured in Louisville, KY on April 16, 1958
---
Information as of: July 2005

Owner: unknown (online auction car)
Location: Blairsburg, Iowa
Owned since: October 1998 Mileage: 66,981
Condition: Not running but salvageable
Originality: unknown Accessories included: Radio, Wheel Covers Notes:
I bought this wagon back in Oct. 1998 at an Estate Sale. It had been stored inside for many years and has been inside most of the time that I have had it. It did sit outside one winter while I was waiting to have a garage built. I pulled it out this spring.

It does not run. Before driving it would need a complete restoration of engine, transmission, brakes, tires, suspension and steering. Body damage may be repairable by someone with some experience at sheetmetal working. The worst of it is the right rear window post. Since this area does not usually rust out, a repair could be cut from another car or it could be hammered and welded and putty (it looks like someone hit a road sign). The door could be pushed out and the area in front of the rear bumper can be straightened and putty'd. The rear bumper will need to be straightened and rechromed. There is also a little damage to the splash apron near the front bumper on the left side. The rocker panels should be replaced due to rust.

Other than the rocker panels, the car seems to be very solid with only minor surface rust. Under the headlights I could not find any holes and the area behind the wheel opening is fairly good but will need some attention (small dent in this area on right side). It is rare to see front fenders this good. The rust on the rear quarterpanels is only surface rust on the right and there maybe a few pinholes in the left. The inner rocker panels and floor supports appear to be in good shape. There are some holes in the floors. Both front bumpers rubbed on the trailer frame in transit but I have a couple repairable ones to include with the car. It does not have taillight lenses. Taillight housing are fine for a driver but would need to be rechromed for a show car. The interior will need to be reupholstered but is all there except the sunvisors. Headliner has two small holes. The original rubber blue floor mats are still in the car but are cracked and torn. Dash pad is cracked and warped. Steering wheel needs to be repainted and the center emblem is missing. Instrument panel needs to be screwed back to the dash. Two empty hole where clock and compass used to mount.

The outside rearview mirror is missing the glass. It is just an aftermarket piece anyway. Hood ornament is missing, antenna is aftermarket. The script and letters are good. Right side "L" and left side "E" and "L" are missing. The tailgate is solid with no rust through, but have two small dents.
---
©2005 Edsel.com All Rights Reserved