W8UR728716 <!- 76B Q A AN -->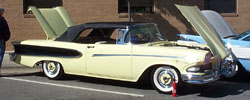 Dataplate specifications
Pacer, convertible, Jonquil Yellow with Jet Black
Black/white vinyl interior

361cid E-400 V8, Teletouch automatic transmission
Edsel number 728716 manufactured in Louisville, KY
---
Information as of: January 2003

Owner: Donnie Solomon
Location: Roxboro, North Carolina
Owned since: unknown Mileage: unknown
Condition: Nicely detailed show car
Originality: All parts are factory authentic for the car Accessories included: Radio, Whitewall Tires, Wheel Covers with Spinner, Back-up Lights Notes:
The car belonged to my father who died 2 years ago. He had a collection of cars, but the Edsel was his favorite.

Photographs of the car are listed on my father's car museum website. The museum is not and has never been a for-profit business. The cars were never offered for sale prior to his death.
---
©2003 BE All Rights Reserved