W8US726985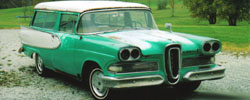 Dataplate specifications
Roundup, 2-door wagon, Special Mix
White/green vinyl interior

361cid E-400 V8, 3-speed with overdrive transmission, special axle code
Edsel number 726985 manufactured in Louisville, KY on February 7, 1958
---
Information as of: October 2005

Owner: Matt Dorschug
Location: Burlington, New Jersey
Owned since: September 2005 Mileage: 106,439
Condition: Not Running but salvageable
Originality: All parts are factory authentic Accessories included: Dial-Temp Heater/Air Conditioner, Overdrive Transmission, Town & Country Radio, Power Antenna, Power Steering, Power Seats, Power Windows (Front only), Power Brakes, Whitewall Tires, Wheel Covers with Spinner, Padded Dash and Sun Visors, Two-tone Paint, Tachometer, Electric Clock, Positive-Action Windshield Wipers, Windshield Washer, Front Seat Foam Cushions, Rear Seat Foam Cushions, Oil Filter, Extra Cooling Fan, Heavy Duty Battery, Paper Air Cleaner, Dual Exhaust, Back-up Light Delete plates, Glove Box Light Notes:
One of 12 Edsel Service Vehicles built used to pull Edsel Service Trailers to Edsel Dealerships in a given region to show the Edsel Service Techs how to work on the Edsel. These were equipped with a 4.11:1 rear axle and painted Edsel Green. This one is the earliest known Service Roundup on file.
---
Information as of: January 2005

Owner: Jerry Pogue
Location: Ohio
Owned: 1985 - 2005 Mileage: unknown
Condition: Not Running but salvageable
Originality: All parts are factory authentic Accessories included: Dial-Temp Heater/Air Conditioner, Overdrive Transmission, Power Antenna, Power Steering, Power Seats, Power Windows (2-doors), Power Brakes, Two-tone Paint, Heavy Duty Battery Notes:
Submitted by Jim Turner:
This is believed to be one of the "Special Service" Delivery Wagons. It is rumored to be just 1 of 12 Roundups that were built by Edsel to haul around service trailers and promote the new Edsel.
It was a painted Kelly Green and White and came with all the power options. The axle code is stamped with an (0). This wagon appears complete, but will need a full restoration.

<!- P HR P --> <!- A HREF= http: www.vector11.com/edselcom/gallery/e58/e584h726985.jpg Gallery Link /A --> <!- P HR P -->
---
©2005 Edsel.com All Rights Reserved