G8UF724670 <!- 58B BEE E 31K 2 C -->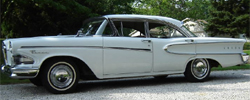 Dataplate specifications
Pacer, 4-door hardtop, Silver Gray Metallic with Snow White
Green cloth interior

361cid E-400 V8 for export, 3-speed/overdrive transmission, 3.70:1 axle ratio
Edsel number 724670 manufactured in Louisville, KY on October 31, 1957
---
Information as of: August 2010

Owner: unknown (online auction car)
Location: Canal Fulton, Ohio
Owned since: unknown Mileage: 75,219 km
Condition: Runs and drives well
Originality: New paint, rebuilt engine Accessories included: unknown Notes:
This car was built to be exported. Unique kilometer scale speedometer which reads 75219 (converted to miles is around 47,000). As far as known, this is correct actual miles. Due to export requirements, it has a 332 cubic inch engine with 265 horsepower. The engine has been rebuilt a number of years ago. No smoke or leaks. Carburetor recently rebuilt, new fuel pump. Radiator cleaned and repaired, new coolant. Starts easy, runs well.
This has a rare, optional 3-speed manual transmission with overdrive. Clutch works good, transmission shifts easy, overdrive feature works as it should. Better fuel mileage with this option. Tires have almost full tread but show some checking in the whitewalls. Safe to drive on. Brake wheel cylinders have been rebuilt, newer front hoses. Brakes work well even though they are manual.
Manual steering, new sway bar bushings, newer front shocks. Drives straight. Installed new rear axle bearings and seals. New wheel bearings in driver front. This car has factory dual exhaust. Newer mufflers, needs right tailpipe.
Nice dash housing and cluster, fuel gauge works but the clock does not. This car has the radio delete option with the delete plate in great condition. Replaced fibreboard visors with nice optional padded visors. The car has rubber floor mats due to carpet being an option. New kick panels and rear package tray also. The windshield has a small mark,and both wing windows are cracked. All other glass in great condition. It does need the rubber seals replaced on front and rear glass. Vacuum Wipers work ok.
The car was repainted years ago. It shows some paint cracking mostly on the rear deck lid and at the top of the rear quarters. Paint is glossy but thin in places. Both rocker panels were replaced, rear quarters had new metal on bottoms. Trunk is solid but has had small patches to area over mounts. Driver's floor had new panel installed. The front and rear bumpers were rechromed in 1992, and they look good but not perfect. The rear tailight housings were rechromed also but do now have some small pits. A couple bubbles in the doors. A small dent in left rear quarter bottom. Rust bubbles in corners of the hood.
Grills are decent, impact ring is good. All lights work. Installed new chrome accent strips on taillight lenses.
I installed seat covers over the original seats. Seats material is dry due to age. Original material is available. Nice door panels and trim. The headliner is intact but has a small hole in front, and water damage in rear corners.

Car is in good running, driving condition. Very unique, affordable car. This car can be driven home.
---
Information as of: August 1994

Owner: Bob Blankenship
Location: Morrow, Ohio
Owned since: unknown Mileage: unknown
Condition: Rebuilt engine
Originality: unknown Accessories included: unknown Notes:
This car was made for export out of the United States.
---
©2010 Edsel.com All Rights Reserved