W8UG724344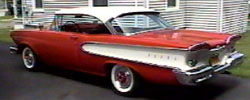 Dataplate specifications
Ranger, 2-door hardtop, Green with Snow White
Black/gray cloth interior

361cid E-400 V8, 3-speed column automatic transmission
Edsel number 724344 manufactured in Louisville, KY on October 31, 1957
---
Information as of: April 2008

Owner: Rudy Sandargus
Location: Lopatcong, New Jersey
Owned since: July 2003 Mileage: 41,893
Condition: Drives, but needs restoration
Originality: Stock, with some updated parts Accessories included: Dial-Temp Heater/Defroster, Column Automatic Transmission, Power Brakes, Whitewall Tires, Wheel Covers with Spinner, Tinted Glass, Two-tone Paint, Windshield Washer, Oil Filter, Heavy Duty Battery, Paper Air Cleaner, Dual Exhaust, Hooded Side Mirror, Courtesy Lights Notes:
This Edsel was purchased through ebay and a negative feedback was sent. After many serious safety issues were corrected, I can drive this car without fear.

The column-shift automatic transmission is the most noteable feature about this car. I installed NOS power steering and remanufactured power brakes. To me, the NOS block off radio delete is great.
---
Information as of: May 2003

Owner: Tom Kneebis
Location: Binghamton, New York
Owned since: 2000 Mileage: 40,900
Condition: Drives, needs minor restoration
Originality: Non-stock interior Accessories included: Radio (not working), Heater, Compass, Clock (not installed), Backup lights (not working) Dual Exhaust, two Hooded Mirrors (some pitting, clear glass) Notes:
This car was painted several years ago in this red and white combination (the original colors were green and white). The bodywork and paint job do not appear to be professional but I am kind of fussy. For "Show" it should be stripped, smoothed out and repainted. As a "Driver" it is fine just as it is. There may be some Bondo in a few spots, especially the rear quarter panels.

I have owned this car for 3 years now and have tried to make it a dependable and safe driver. This is what is NEW on this car since I have owned it: Brakes, including wheel cylinders; gas tank, all tune-up parts; carburetor overhaul (including the original Holley 4150 model 1483 which is unique to the '58 Edsel 361 engine); 4 Coker Classic wide whites; pinion seal, etc.

I have also added these items to improve it's appearance: NOS hood ornament; spinner wheel covers that are near mint; rechromed front and rear bumpers; headliner; rear window seal; all rear pot metal pieces (used, but not pitted) and a general detailing of the exterior.

This car is equipped with a smooth running E-400 (361 cubic inch, 4-barrel, 303 horsepower) engine and the original, ULTRA-RARE column mounted automatic. After January 2, 1958 the Column Shifter was deleted as an option.

The interior is quite presentable but not original. The seats have been recovered with a soft, plain black vinyl as have the door panels. The floor has a decent black carpeting. The dash has been repainted to match the exterior. I have replaced the Headliner and package tray. Some interior details need attention such as the kick panels.

Structurally this is a sound car. The frame is solid and rust free. The floors did have minor rust and those sections were replaced with new metal. The trunk has not been detailed and requires attention. Detailing of the engine compartment has been started but still needs some time spent.

Car is currently registered and inspected in New York State. Items needing attention also include replacing the intake manifold gasket (oil and vacuum leaks); spare tire; repainting of the area behind the rear bumper.

(April 2001 mileage: 40,415)
---
©2008 Edsel.com All Rights Reserved