W8UF717453 <!- 58B QNN D 23J A A -->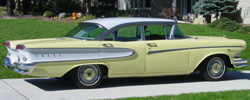 Dataplate specifications
Pacer, 4-door sedan, Jonquil Yellow with Driftwood
Brown cloth interior

361cid E-400 V8, Teletouch automatic transmission, 2.91:1 axle ratio
Edsel number 717453 manufactured in Louisville, KY on September 23, 1957
---
Information as of: June 2008

Owner: Joseph & Elaine Wolny
Location: Shelby Township, Michigan
Owned since: September 2007 Mileage: 104,000
Condition: Drives, but needs restoration
Originality: Stock, with some updated parts Accessories included: Teletouch Automatic Transmission, Radio (non-working), Power Steering, Power Brakes, Wheel Covers with Spinner, Two-tone Paint, Electric Clock Notes:
The car is sound and in good shape. The E-400 starts on the first try, Teletouch functions, but the neutral position needs alignment. The interior is in good condition with good seats, carpet and original dash. The suspension and rear end all seem to be in good working order. The electrical system is also sound.
The finish on the vehicle is fair but does have minor imperfections. The paint is not an exact match to the original but it is very close. The paint shows some spots in need of repair also with some minor chipping. The right driver door needs some bump work. Some on the rubber doors seals need replacement, but there is no noticeable rust on the undercarriage or on the body. The stainless steel and chrome are in good condition. The floors are solid and tires have little wear. The windshield does have a crack but it does not obstruct your view, and the left rear door window is cracked but functional.
---
Information as of: July 2002

Owner: unknown (online auction car)
Location: Boise, Idaho
Owned since: unknown Mileage: 101,609
Condition: Drives well, needs minor restoration
Originality: unknown Accessories included: Standard Radio, Power Steering, Wheel Covers with Spinner, Electric Wipers Notes:
This car is very sound and in good shape. This car has the E400 motor in it which still runs well, and the original push button tranny still works well also. The interior is in good condition with good seats, good carpet and good original dash. The odo shows 1,609 but original miles are unknown. The suspension and rear end all seem to be in good working order as well as the electrical system but the original A/M radio is not working.

The finish on the vehicle is good but does have imperfections as most vehicles of this age do, chips, etc... The paint is not an exact match with the original but it is very close. The paint shows some spots in need of repair where there was either too much paint applied or not enough applied. There are minor spots of overspray that should be easily cleaned up and some on some rubber etc.. That will not be so easy to clean up.

The vehicle does not have any rust on the undercarriage or on the body. Some of the stainless still needs to be worked though. The floors are solid and the tires are newer as well.

<!- P HR P --> <!- A HREF= http: www.vector11.com/edselcom/gallery/e58/e584h717453.jpg Gallery Link /A --> <!- P HR P -->
---
©2008 Edsel.com All Rights Reserved