W8UG715067 <!- Second Line -->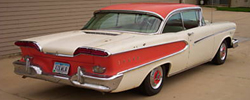 Dataplate specifications
Pacer, 2-door hardtop, Snow White with Ember Red
Red cloth/white vinyl interior

361cid E-400 V8, Teletouch automatic transmission, 2.91:1 axle ratio
Edsel number 715067 manufactured in Louisville, KY
---
Information as of: May 2009

Owner: unknown (online auction car)
Location: Cedar Falls, Iowa
Owned since: unknown Mileage: 72,249
Condition: Drives well, needs minor restoration
Originality: Modified with floor shifter Accessories included: Teletouch Automatic Transmission, Radio, Power Steering, Wheel Covers with Spinner, Tinted Glass, Padded Dash and Sun Visors, Front and Rear Bumper Guards, Dual Exhaust, Back-up Lights Notes:
The is a very straight, original car that I rescued from some Mexicans that brought it up to Iowa from Texas. They didn't have antifreeze in it and most of the frost plugs popped out. I replaced the plugs and no damage was done to the block. The motor is the original 361 V8. I replaced the fuel pump, brake booster and tires, and rebuilt the generator and the carburetor. It now runs and drives very smooth. The odometer works and shows 72,000 miles and I believe it to be actual since the interior is in good original condition, with the exception of the dash pad, which got too much sun, apparently. It appears that just before I took possession, new brakes and dual exhaust were installed. The body and moldings are absolutely straight, and although the paint appears the be original, it needs a new coat. There is some surface rust where the paint is cracking and peeling. There are two small rust holes starting at the bottom of the rear quarter on the drivers side. The bumpers are also absolutely straight, with only some minor pitting. There is some pitting on the tops of the taillight mouldings as well.

Most everything works, except the lighter, dash clock and compass. The Teletouch transmission controls on the steering wheel are not working, so I installed a floor shifter in the meantime. All the mechanicals and wiring for the Teletouch are there, but I believe a relay switch is bad. Haven't had a chance to check into it.
---
©2009 Edsel.com All Rights Reserved