W8UT712049 <!- 79C JEE BA 06J 4 B -->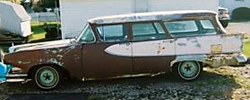 Dataplate specifications
Villager, 4-door 6-passenger wagon, Ice Green with Snow White
Green and white vinyl interior

361cid E-400 V8, Teletouch automatic transmission, 3.22:1 axle ratio
Edsel number 712049 manufactured in Louisville, KY on September 6, 1957
---
Information as of: March 2017

Owner: John Craig
Location: Indiana
Owned since: September 2013 Mileage: 70,000
Condition: Scrapped
Originality: n/a Accessories included: Dial-Temp Heater/Defroster, Standard Radio, Power Steering, Power Brakes, Wheel Covers, Tinted Glass, Two-tone Paint, Compass, Electric Clock, Oil Filter, Paper Air Cleaner, Hooded Side Mirror, Courtesy Lights, Back-up Light Delete plates, Glove Box Light Notes:

---
Information as of: May 2009

Owner: unknown (online auction car)
Location: Terre Haute, Indiana
Owned since: unknown Mileage: unknown
Condition: Runs, but needs restoration
Originality: Stock Accessories included: Radio Notes:
This is a good old wagon to restore, it runs around the yard but needs new brake lines on the rear. I have left the car in its current condition so you can see the body work that needs to be done an such. It needs a gas tank. I have one in the back to be able to drive it.

The car has history with the Indianapolis Motor Speedway, as the former owner would transport Mrs Hulman and family to the track during the 500 mile race and such. There is a paper in the window that reads "Tower Terrace Parking Permit Indianapolis Motor Speedway 1963", and is signed by the track manager of that time.

The engine is original - there is very little on the car that is not original.
---
©2017 Edsel.com All Rights Reserved