W8UG711866 <!- 63A JJJ K 06J 4 A -->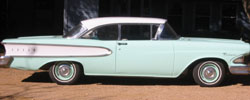 Dataplate specifications
Ranger, 2-door hardtop, Ice Green
Green cloth/White vinyl interior

361cid E-400 V8, Teletouch automatic transmission, 2.91:1 axle ratio
Edsel number 711866 manufactured in Louisville, KY on September 6, 1957
---
Information as of: March 2002

Owner: Aaron Gober
Location: Austin, Texas
Owned since: March 2002 Mileage: 71,748
Condition: Runs and drives
Originality: Stock, except for non-Edsel engine Accessories included: Teletouch Automatic Transmission Notes:
Body is in very good condition, engine ran 3 years ago, should run again soon.
Interior will be completely redone.

Grandfather owned this car since 1969 and it has been in a barn for last 30 years. Gave it to Aaron for 16th birthday. Will be reworked to running condition for daily transportation.

Update: May 2006
This Ranger was worked on as a family project and is now for sale. It has all the dash components (compass is not installed) and all the chrome with the exception of the hood ornament. Driver side window glass is cracked, it was replaced, but cracked again. Body is in good condition for the most part, couple a of minor dents, rear floor panel had a hole that has been fixed with a fiberglass patch kit. The exterior has a new paint job, mint green and white. Seats have been recovered using the original seat covers as a pattern, new headliner and carpet. Engine runs and it was driven daily by our son to school for about a year after all the work on it was done. It has been sitting in the driveway, canvas covered for 2 years, since the boy went to college.
We have a great set of 1958 Texas license plates for the car. The battery will lose charge if not driven every couple of days, we have tried to figure out what is draining the charge but haven't found it yet. We have installed a radio/cd player that is hidden behind the factory blank cover that was used to fill the space.
---
©2002 Edsel.com All Rights Reserved