W8UT709837 <!- 79C RBR BC 29H 4 B -->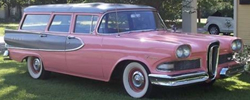 Dataplate specifications
Villager, 4-door 6-passenger wagon, Sunset Coral with Silver Gray Metallic
Gold cloth/black vinyl interior

361cid E-400 V8, Teletouch automatic transmission, 3.22:1 axle ratio
Edsel number 709837 manufactured in Louisville, KY on August 29, 1957
---
Information as of: October 2009

Owner: unknown (online auction car)
Location: Longview, Texas
Owned since: unknown Mileage: 13,495
Condition: Drives well, needs minor restoration
Originality: Modified shifter, new paint Accessories included: Radio, Power Steering, Whitewall Tires Notes:
Interior is very nice. Not sure if it's original, as the headliner looks like new. All lights work. The left blinker does not work, even after replacing the flasher, The driver side wiper does not work, but the passenger side works fine (vacuum). Someone prior to my ownership had the car repainted and someone painted all the door jams black. Has newer pile carpet from front to back that looks fantastic. The paint could use wetsanding and buffing and the gray paint on the roof and the side needs to be repainted. It has started to peel in a few places.

The bumpers look to have been rechromed at some point and have very little rust on them. The bumper guard on the rear bumper has surface rust on it and it will not come off with steel wool. I would plan to have that rechromed in the future if you want it to look real nice. The white wall tires are in great shape, but the hubcaps have rust on them and that needs to be adressed by rechroming or you can clean with steel wool and use them as they are.

The bad: The original push button transmission shifter does not work. It all appears to be there, but it's been unplugged. A shifter lever has been put in the floor and we in Texas have a saying; it's kinda "rinky dink". I'm sure the new owner would like to put a Lokar shifter in with a new cable or have someone repair the old pushbutton mechanism. You can change gears now fine, it just feels loose and it takes a little "gettin used to". It has dual exhaust with glass packs underneath. Sounds good going down the road, but I would have made the pipes come straight out of below the rear bumper.
---
©2009 Edsel.com All Rights Reserved