W8UH708566 <!- Second line -->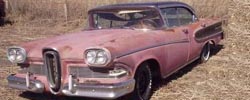 Dataplate specifications
Pacer, 4-door hardtop, Ember Red with Jet Black
Red cloth/white vinyl interior

361cid E-400 V8, Teletouch automatic transmission, 2.91:1 axle ratio
Edsel number 708566 manufactured in Louisville, KY
---
Information as of: March 2002

Owner: unknown
Location: North Platte, Nebraska
Owned since: 1997 Mileage: 69,893
Condition: Not Running but salvageable
Originality: unknown Accessories included: Teletouch Automatic Transmission (works), Power Brakes, Tinted Glass, Rocker Mouldings (with NO SCREW HOLES), Backup Lamps, Bumper Guards, Padded Dash, Compass. Notes:
From an online auction:
I purchased the car about 5 years ago with the intention of doing a full restoration, but I have decided that I need to thin out the herd! I last ran it 5 years ago and the motor (E400, 361 V8 4 barrel carburetor) sounded really good. The previous owner said that it had been overhauled just prior to his aquisition of the car and he drove it 50 miles to his house and it preformed very well.

This car would require a total restoration. All the glass is good. I have all of the lenses (taillamp, backup lamps, and parklamps) except the right outer taillamp red lens. The reflex lenses are all good. These were removed to prevent theft or damage.

This car has the original paint. The body is in decent shape but it has the usual rust problems in the rear quarters over and behind the rear wheels. The front fenders appear solid, but the left front had been damaged in the past and repaired. The rocker panels probably have some rust. The right front door is dented. Most of the chrome is good with the exception of the bumpers, which are dented. The brakes are non-functioning. The hood ornament, wheel covers, radio and antenna are missing.
---
©2002 BE All Rights Reserved