W8UG704523 <!- 63B CAE AX 13H 4 A -->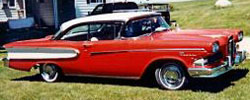 Dataplate specifications
Pacer, 2-door hardtop, Ember Red with Jet Black and Snow White
Red cloth/white vinyl interior

361cid E-400 V8, Teletouch automatic transmission, 2.91:1 axle ratio
Edsel number 704523 manufactured in Louisville, KY on August 13, 1957
---
Information as of: February 2010

Owner: Tim Ernst
Location: Bethlehem, Pennsylvania
Owned since: June 2006 Mileage: 55,701
Condition: Drives very well
Originality: Stock, with some updated parts Accessories included: Teletouch Automatic Transmission, Standard Radio, Power Steering, Power Seats, Wheel Covers, Padded Dash and Sun Visors, Seat Belts, Tri-tone Paint, Rocker Panel Mouldings, Electric Clock, Front & Rear Bumper Guards, Padded Sun Visors, Oil Filter, Dual Exhaust, Carpet, Hooded Side Mirror, No-Glare Rear-view Mirror, Courtesy Lights, Back-up Lights, Engine Compartment Light, Glove Box Light, Locking Gas Cap Notes:
Car is in primer. I will be painting it very soon. I am painting it the three original colors C-A-E.
The car runs like new. I took it to bare metal. There is no rust in this car.

November 2006 update: The under-dash air conditioner and components were removed, and are in storage.
---
Information as of: March 2006

Owner: unknown (online auction car)
Location: Whittemore, Michigan
Owned since: unknown Mileage: 52,611
Condition: Drives well
Originality: unknown Accessories included: Power Steering, Power Seat, Air Conditioning Notes:
All glass is in good shape. No cracks in any of the windows. Runs and drives very good. Odometer reads 52611 think these are the actually miles. Okay, the owner believes that the car has factory air but I have been told that it isn't. If any could help me figure out if it is or not would you please let me know - I will hold off on saying that it is until I know for sure or not.

This car is originally from California
---
©2010 Edsel.com All Rights Reserved