W8UF703505 <!- 58A AEE C 09H 4 A -->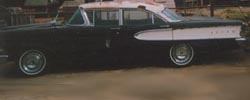 Dataplate specifications
Ranger, 4-door sedan, Jet Black with Snow White
Black/gray cloth interior

361cid E-400 V8, Teletouch automatic transmission, 2.91:1 axle ratio
Edsel number 703505 manufactured in Louisville, KY on August 9, 1957
---
Information as of: September 2001

Owner: James Swank
Location: Bakersfield, California
Owned since: August 2000 Mileage: 76,312
Condition: Drives, but needs restoration
Originality: Stock, with a few modern parts Accessories included: Dial-Temp Heater/Defroster, Teletouch Automatic Transmission, Standard Radio, Wheel Covers, Padded Dash and Sun Visors, Seat Belts, Two-tone Paint, Glove Box Light Notes:
This edsel was bought from the original owner on August, 26 2000. The original owner lived in Connecticut until he was transferred to California in June of 1957. He bought a house in El Segundo, California and started working at Douglas aircraft in Santa Monica.

In October 1957, he bought the Edsel as a car to use for work. When the Santa Monica plant closed, he transferred to Long Beach. In 1973, he came home one evening and parked the Edsel - never to drive it again. It is a shame that he didn't put it in the garage because it only had 76,000 miles on it and they lived nine blocks from the ocean. The fog and salt air took it's toll on the body and chrome. After many years of sitting, he gave the car to his son. The son didn't want "that ugly piece of junk". He wanted a mountain bike instead, so he put it in the recycler paper under the junk car section, where i found it. He wanted $350.00 for it, the cost of the bike. His loss, my gain.

"Rusty", as my wife and I call it, still had the hood ornament on it and in the trunk was a Fram air filter in the box which says "fits Edsel" in big letters. Also, cans of motor oil and an Allstate group 29 NF battery from 1973. Plus the 1957 Connecticut license plates off the car he traded in.
---
©2001 BE All Rights Reserved