W8UG703489 <!- 63B HHF V 09H 4 A -->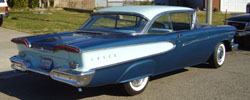 Dataplate specifications
Pacer, 2-door hardtop, Royal Blue Metallic with Powder Blue
Blue cloth/white vinyl interior

361cid E-400 V8, Teletouch automatic transmission, 2.91:1 axle ratio
Edsel number 703489 manufactured in Louisville, KY on August 9, 1957
---
Information as of: February 2010

Owner: Heine Hansen
Location: Denmark
Owned since: September 2009 Mileage: unknown
Condition: Show car
Originality: All parts are factory authentic Accessories included: Dial-Temp Heater/Defroster, Teletouch Automatic Transmission, Standard Radio, Power Steering, Whitewall Tires, Wheel Covers, Two-tone Paint, Rocker Panel Mouldings, Compass, Electric Clock, Windshield Washer, Padded Sun Visors, Oil Filter, Dual Exhaust, Carpet, Courtesy Lights, Back-up Lights, Glove Box Light, Fender Skirts Notes:
Can be seen on my website: www.carnut.dk/us/1958edsel

Bought it in California in the fall of 2009. Got a new interior done and now chrome among other things done before it was shipped to Denmark.
---
Information as of: March 2008

Owner: Dave Lee
Location: Fontana, California
Owned since: unknown Mileage: unknown
Condition: Excellent
Originality: unknown Accessories included: Tinted glass, electric clock, compass, hood light, standard AM radio, Teletouch transmission, standard fullsize wheelcovers, hooded mirror on driver's side fender, day-night mirror inside car, padded dash, back-up lights Notes:
Recently received a cosmetic restoration.
---
Information as of: July 2002

Owner: Erik and Laurie Smith
Location: Whittier, California
Owned since: November 1996 Mileage: 77,469
Condition: Somewhere between "Runs" and "Drives well"
Originality: Factory authentic except for dome light and possibly antenna Accessories included: Tinted glass, electric clock, compass, hood light, standard AM radio, Teletouch transmission, standard fullsize wheelcovers, hooded mirror on driver's side fender, day-night mirror inside car, padded dash, back-up lights Notes:
All original at this point, as far as I know, except for an incorrect dome light. Hood ornament is missing and holes on hood are filled. Kick panels are missing. Antenna is a question mark - see below.

I'm just getting started on this project car, and am looking for parts and tips on restoration. This car apparently was a daily driver in Walla Walla, Washington for the first ten years of its existence, and the last year of its original registration was 1968 (I still have the plates).
Then the original owner died, and his widow parked it in the back yard for something like 25 years. Rain from the eave of the garage landed heavily on one side of the car and so there is surface rust on the passenger fender.
A farmer in Walla Walla purchased the car in the early '90s. He was a skilled amateur restorer, but he decided he'd rather stick with Oldsmobiles and Buicks. So he parked it in front of an abandoned gas station with a for-sale sign in the window, where my wife and I saw it in 1996. We paid $1400. We've had the engine rebuilt, as well as the brakes and suspension, and we drove it to Southern California under its own power in 1999. Body, seat covers and dash pad need work.
The original color is royal metallic blue with powder-blue scallops, though we're planning to change color, probably to horizon blue/snow white.
I mentioned above that I'm uncertain about the originality of the antenna. I went to a '50s Ford meet recently and saw several '58 Edsels with the same sort of antenna base that I have on my car, so I assume the antenna base is original. However, the antenna shaft has a spring on it, and I have been told that the factory antennas did not have springs. A close examination shows that the shaft can be detatched from the base by means of a screw, so I wonder if this spring-mounted antenna shaft might be a dealer-installed accessory. Because it fits perfectly on the base, I suspect it may be an original '58 item rather than an aftermarket item.

<!- P HR P -->
---
©2010 Edsel.com All Rights Reserved