W8UF700973 <!- 58A FEF B 25G 4 A -->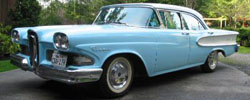 Dataplate specifications
Ranger, 4-door sedan, Powder Blue with Snow White
Blue cloth interior

361cid E-400 V8, Teletouch automatic transmission, 2.91:1 axle ratio
Edsel number 700973 manufactured in Louisville, KY on July 25, 1957
---
Information as of: July 2006

Owner: Russ & Linda Rabin
Location: Las Vegas, Nevada
Owned since: July 2006 Mileage: 16,713
Condition: Parially restored
Originality: New paint, non-Edsel engine Accessories included: Dial-Temp Heater/Defroster, Electric Clock, AM Radio Notes:
One unique car, came from the factory with Ranger script on the right and Pacer script on the left front fender. Originally sold in Texas, has a rebuilt 390 cid 1963 T-Bird engine (original engine ended with rod thru block). Transmission was rebuilt at the same time the as the engine approx 3,000 on both. Teletouch works great. Complete brake job with all new stuff. Complete front end rebuilt, with new shocks. New paint scheme (now FEE instead of FEF), seats recovered, new headliner. Holley carb was replaced with a Edlebrock 600 cfm. AM radio works. No rust. Runs great.
---
Information as of: February 2005

Owner: Dan Wallace
Location: Tracy, California
Owned: June 16, 2004 to July 2006 Mileage: 16,713
Condition: Parially restored
Originality: New paint, non-Edsel engine Accessories included: Dial-Temp Heater/Defroster, Electric Clock, AM Radio Notes:
<!- Notes above were previously here -->
---
---
©2006 Edsel.com All Rights Reserved