"OU15Y706812" <!- 76B M 56 23K 4 1 -->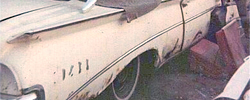 Dataplate specifications
Ranger, 2-door convertible, Polar White
Black vinyl interior

352 Express V8, Dual-Power 3-speed transmission, 3.56:1 axle ratio
Edsel number 706812 manufactured in Louisville, KY on October 23, 1959
---
Information as of: August 2010

Owner: unknown (online auction car)
Location: Perris, California
Owned since: unknown Mileage: unknown
Condition: Needs total restoration
Originality: unknown Accessories included: unknown Notes:
Has not run in over 40 years. The body is not good - it has dents and rust and has been sitting outside for years. There is nothing left of the original interior. The roof is there but needs covering. Tires are up and the car can be towed.
The VIN plate is painted over. Bidding starts at $50,000.
---
Information as of: January 2010

Owner: Mel & Gloria Clema
Location: Anaheim, California
Owned: 1967 Mileage: unknown
Condition: In restoration
Originality: unknown Accessories included: unknown Notes:
This car was under restoration until owners died in 1985. The high unit number is a factory error on the dataplate.

This car was sold new by Galpin Ford in San Fernando. This may be a one-owner car. It was advertised in the mid-1980s for $5,000 but had no takers. It has been sitting outdoors neglected since the mid-70ís. The present owners have refused all offers.

(Research by Larry Blodget)

<!- A HREF= http: www.vector11.com/edselcom/gallery/e58/e584h703961.jpg Gallery Link /A -->
---
©2010 Edsel.com All Rights Reserved