OU15Y703192 <!- 76B C 57 30K 4 8 -->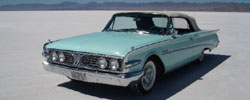 Dataplate specifications
Ranger, 2-door convertible, Turquoise
Two-tone Turquoise vinyl interior

352 Express V8, Dual-Power 3-speed transmission, 2.91:1 axle ratio
Edsel number 703192 manufactured in Louisville, KY on October 30, 1959
---
Information as of: November 2006

Owner: Mike Cowles & Robert Ecton
Location: Oakland, California
Owned since: April 1994 Mileage: 158,050
Condition: Show car - always driven and in Gold class
Originality: Some paint touch up and some interior renewed to original. Rechromed bumpers. Accessories included: Power steering, power brakes, back-up lights, padded dash, padded sun visors, radio, heater, clock, dealer installed drivers side combination mirror/spotlight, deluxe wheel covers with white walls Notes:
This Edsel has been driven to many Edsel events since 1968 by the original owner, Mr. Porter Goff and later upon my ownership, starting in 1984. It has been a consistant winner for it's originality and pristine condition.
Along with my purchase, the sale included the original new car window sticker, sales agreement, and all California registration certificates from 1959. It was originally sold through C.B. Knickerbocker's Inc., Santa Ana, CA in October 1959 and driven to Alameda, CA by Mr. Goff.

This car has been featured as the cover story in the following magazines:
1. Collectible Automobile, Vol 1 No 2, July, 1984. "Edsel Pro & Con"
2. Cars & Parts, Vol 41 No 2, February, 1998. "Edsel's Last Fling"
3. Special Interest Autos, No 181, February, 2001. "1960 Buick vs. Edsel"

---
Information as of: June 1994

Owner: Porter Goff
Location: Alameda, California
Owned: October 1959 to April 1994 Mileage: 0
Condition: New
Originality: New Accessories included: Power steering, power brakes, back-up lights, padded dash, radio, heater, clock, dealer installed drivers side combination mirror/spotlight, deluxe wheel covers with white walls Notes:

<!- P HR P --> <!- A HREF= http://www.vector11.com/edselcom/gallery/e60/e604h700452.jpg Gallery Link /A --> <!- P HR P -->
---
©2006 Edsel.com All Rights Reserved