OU12W703164 <!- 58A F 22 27K 3 3 -->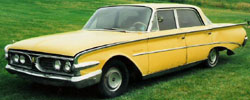 Dataplate specifications
Ranger, 4-door sedan, Hawaiian Blue
Blue vinyl/Black cloth interior

292 Ranger V8, Mile-o-matic 2-speed transmission, 3.10:1 axle ratio
Edsel number 703164 manufactured in Louisville, KY on October 27, 1959
---
Information as of: July 2002

Owner: David Hooten
Location: Racine, Wisconsin
Owned: August 1994 - October 1995 Mileage: unknown
Condition: Scrapped
Originality: N/A Accessories included: unknown Notes:
I bought this car in Lake Villa, Illinois in Aug 1994, from William Fashe. They had it advertised in an Auto Buyer, but were talking of junking it when no one showed interest. I bought it and advertised it through the Edsel clubs and was unable to sell it also. I found a buyer if I parted it out. So it was parted out & junked in Oct '95. It could of been restored with much work. It did run. I had a 60 Ford parts car to go with it.
The photo makes it look better than it was. The yellow zinc primer covered a lot of sins...
---
---
©2004 Edsel.com All Rights Reserved