OU12W703095 <!- 58A JA1 25 26K 3 3 -->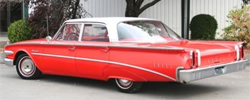 Dataplate specifications
Ranger, 4-door sedan, Regal Red with Black Velvet
Red vinyl/Black cloth interior

292 Ranger V8, Mile-o-matic 2-speed transmission, 3.10:1 axle ratio
Edsel number 703095 manufactured in Louisville, KY on October 26, 1959
---
Information as of: May 2016

Owner: Mainly Muscle Cars (online auction car)
Location: Monroe, Washington
Owned since: unknown Mileage: 20,128
Condition: Runs and drives
Originality: All parts are factory authentic for the car Accessories included: Radio, Whitewall Tires, Wheelcovers, Windshield Washer Notes:
This Edsel has seen an older re-paint that looks presentable with a few minor drips, scratches and nicks. The two-tone red & white color scheme really sets it apart and gives it a striking appeal. The red vinyl and black pebble cloth seats are in great shape for it's age, though there is a poke and pull here and there on the fabric. The dash looks great with just a few signs of wear. Door panels still look fresh and there is no obvious rust around the door edges or sills.
The Edsel tag is present on the driver's side and it looks to be in amazing shape. The gauges appear to work well as does the clock. The radio was billed as 'working' when we bought the car, but I have not been able to get it to receive stations, though some slight buzzing sound can be heard. The wipers work, though they are a bit slow until the vacuum pressure builds up. The air circulator fan works and blows in outside air.

The automatic transmission shifts out nicely and the car drives down the road as it should. Brakes may need some servicing in the future, but they do stop the car.
Overall this car is in amazing shape for it's age and should stand the test of time as a beautiful car to drive and collect.
---
Information as of: June 2004

Owner: unknown (online auction car)
Location: LaHarpe, Illinois
Owned since: October 23, 1994 Mileage: 19,377
Condition: Not Running but salvageable
Originality: All parts are factory authentic for the car Accessories included: Windshield Washer Notes:
I had the transmission rebuilt and drove the car the 50 miles home and backed her into the garage and it has not been started since. I have to remove this car to make room for other projects. I recently retired and have no desire nor time (funds) to complete the necessary work on this car. Car has ACTUAL miles of 19,377. NO KIDDING. It's got usual rust, in rear quarters and rockers, and there is about a 4 inch square hole in the driver's floor near the corner post. All of the glass is good except the drivers vent wing is cracked. I have a replacement with the correct logo. The mirrors are in the car, but there is no glass. The dash is virtually gone. The radio worked. I believe the car the little windshield washer set up that runs off the fan belt. The interior is the original and in excellet condition except for a tear in the upper-right-top of the back seat. I believe caused from the car sitting where the sun was able to hit it.

<!- P HR P --> <!- A HREF= http://www.vector11.com/edselcom/gallery/e60/e604h700452.jpg Gallery Link /A --> <!- P HR P -->
---
©2016 Edsel.com All Rights Reserved