OU11W703094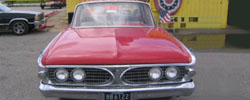 Dataplate specifications
Ranger, 2-door sedan, Regal Red with Polar White
Red vinyl/Gray cloth interior

292 Ranger V8, Automatic transmission
Edsel number 703094 manufactured in Louisville, KY
---
Information as of: June 2008

Owner: unknown (online auction car)
Location: Buchanan, Michigan
Owned since: unknown Mileage: 123,969
Condition: Drives, needs minor restoration
Originality: unknown Accessories included: Radio, Whitewall Tires, Wheel Covers with Spinner, Dual Exhaust, No Side Mirror, Fender Skirts Notes:
It runs fair. Needs a little TLC (loud tappets) but it will be worth it. The interior needs some work (seats), the door glass needs to be replaced. Good car for restoration.
---
©2008 Edsel.com All Rights Reserved