OU14Y702926 <!- 57B MK1 17 23K 3 8 -->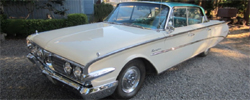 Dataplate specifications
Ranger, 4-door hardtop (deluxe interior), Polar White with Turquoise Metallic
Turquoise vinyl and cloth interior

352 Express V8, Mile-o-matic 2-speed transmission, 2.91:1 axle ratio
Edsel number 702926 manufactured in Louisville, KY on October 23, 1959
---
Information as of: July 2012

Owner: unknown (online auction car)
Location: Petaluma, California
Owned since: unknown Mileage: 15,578
Condition: Drives very well
Originality: Electric fuel pump, radio added Accessories included: Power Seat, Power Steering, Power Brakes, Rocker Panel Moldings, Fender Skirts, Hooded Driver Side Mirror, Rear Speaker, Wheel Covers with Spinner (Front), Windshield Washer, Brake Warning Light Notes:
Previous owner was Edsel Ford of San Leandro, CA (co-founder of the Edsel Owners Club, Inc.).
This car is in very good to excellent condition, with rust in lower doors due to drains being plugged but otherwise the body appears to be rust-free. The interior floors and the trunk floor appear to be original and rust-free. Chrome and stainless in very good to excellent condition, with some pitting on a few of the cast pieces.
It's not known if the odometer reading was reset when restored. The interior is in excellent condition, the driverís door panel shows some signs of wear. It has an under-dash radio-C/D player installed with removable rear package tray speakers.

I am listing the car for the estate of an old friend. (Buy-It-Now price: $10K)
---
Information as of: April 2010

Owner: unknown (online auction car)
Location: Petaluma, California
Owned since: unknown Mileage: 15,578
Condition: Drives very well
Originality: Electric fuel pump, radio added Accessories included: Power Seat, Power Steering, Power Brakes, Rocker Panel Moldings, Fender Skirts, Hooded Driver Side Mirror, Tinted Glass, Windshield Washer, Brake Warning Light Notes: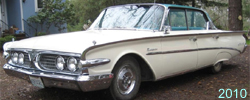 Engine starts and runs great, no issues known with the drivability of this car. Has an electric fuel pump installed by gas tank, unknown why. The transmission shifts smoothly without any slippage.
The interior is in excellent condition, no wear and tear. Has a under-dash radio installed with rear package tray speakers installed (speakers can be removed without damage to package tray).
Both front and rear doors and lower edge of front fenders have rust in them. ďAĒ pillars appear to be ok, and well as the quarter panels. Paint is in good condition. All of the stainless steel is in very good to excellent condition. The chrome on the grill, door handles and the side of the roof has minor pitting. Bumpers are in excellent condition.
Clear and clean California title. This car is a true driver, you can fly in and drive home. It has been taken on many trips both short and long distances without any problems.
I do not know the history of the car.

---
Information as of: 2002

Owner: M. Gillis
Location: unknown
Owned since: unknown Mileage: unknown
Condition: unknown
Originality: unknown Accessories included: unknown Notes:
Research by Mike Hinsch
---
©2012 Edsel.com All Rights Reserved