OU14Y702916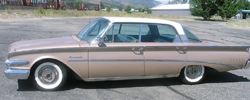 Dataplate specifications
Ranger, 4-door hardtop, Alaskan Gold Metallic with Polar White
Gold vinyl/Brown cloth interior

352 Express V8, Dual-Power 3-speed transmission, 2.91:1 axle ratio
Edsel number 702916 manufactured in Louisville, KY on October 23, 1959
---
Information as of: August 2011

Owner: unknown (online auction car) <!- xrlclarkx aol.com Richard and Willa Clark -->
Location: Anaconda, Montana
Owned since: December 2006 Mileage: 101,731
Condition: Show car
Originality: All parts are factory authentic for the car Accessories included: Air Conditioner, Radio, Power Steering, Power Brakes, Whitewall Tires, Wheel Covers with Spinner, Tinted Glass, Padded Dash and Sun Visors, Seat Belts, Two-tone Paint, Rocker Panel Mouldings, Parking Brake Warning Light, Spotlight, Windshield Washer, Oil Filter, Dual Exhaust, Back-up Lights Notes:
This car is one of only 135 four door hardtops produced and only one of 104 with the standard cloth trim. I believe that this car is THE most original 1960 Edsel in existance outside of a museum on the planet. All through its well-documented history the main goal of owners has been the same: to preserve the originality, preserve the servicability, and at the same time show the car to the public.
Thus: The interior seat fabric is original covered in protective clear plastic. The door panels, dashboard padded covering, and headliner are all original factory issue. The car has the optional 352 "Express" engine with four barrel carburetor and the 3 speed "Dual Range" automatic transmission all numbers matching original. Has the correct (dealer installed type) air conditioner which was added by the second owner from a "donor" car in the early 1970's. The top paint is original and still shines. The body paint is a repaint (also early 1970's vintage) with a close match to the original factory color. The trunk is rust free and sports the original factory fitted mats which show very well. I rust-proofed the trunk floor with POR-15 for future protection. This car even retains the unique Delman Pump windshield washer system (which I have never seen surviving on any Edsel). The "Edsel" washer fluid bag (not a reproduction) is included. The engine is rock solid with no noises or knocks and consumes no oil. Tranny shifts well through all gears. The radio works. The clock doesn't but I have a working spare to fix this. Spotlight/mirror works too.

The car is in good running condition and is currently properly registered and titled. The stated miles will be correct which is 101731 as of this listing.
Since the car is over 50 years old now and has always been kept "original" it is not perfect. The lower paint is starting to seperate in a couple of unobvious spots (no rust) but the original factory paint can be seen peeking through. The rubber mouldings, window seal and door trim seals are getting hard from age. The transmission seeps (no real leak) but will mess up a garage floor after standing for a long time. The front seat fabric has a small seperation on the passenger side which can be seen underneath the clear plastic. The car runs well on the highway but does not like slow traffic (parades) in hot weather. Tends to overheat and spit out antifreeze in that condition. I had the radiator completely rebuilt at high cost ($450) and kept it original so that's not an issue.

This car is featured on Edsel.com's 1960 Edsel Page as the example of the Ranger 4-door hardtop.
Auction reserve price is $10K - almost half what I paid a few years back.
---
Information as of: November 2006

Owner: unknown (online auction car)
Location: St. Louis, Missouri
Owned since: unknown Mileage: unknown
Condition: Show car
Originality: Stock Accessories included: Air Conditioner, Radio, Power Steering, Power Brakes, Whitewall Tires, Wheel Covers with Spinner, Padded Dash and Sun Visors, Seat Belts, Two-tone Paint, Rocker Panel Mouldings, Spotlight Notes:
(Warning: Auction description differs from previously verified ownership history)

You can drive it anywhere, and needs nothing. This is a rare, high point, very correct show car. Comes with an NOS antenna assembly.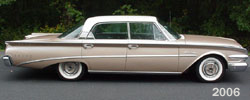 This is the most attractive of all Edsels with a well-documented history. Engine compartment recently detailed. Upholstery protected under plastic seat covers. The lifters were replaced in 1980 along with a "freshening" of the engine, which included new valve guide seals, new standard rings, bearings on cam and crank, new oil pump, timing chain and gears, and lifters.
The car was a one-owner car when purchased in San Jose, CA in 1968, from the original owner. It had 58k on it at the time. The original interior was then covered with plastic seat covers since the upholstery fabric used on all FoMoCo cars in '60 was fragile at best. In 1973 the car body was repainted. The Polar White top is original paint. In the 1973 Harrah's car show in Reno, NV, the car took a first in class (4 firsts in 6 years at that show!). All accessories such as the mirror/spotlight, rocker moldings were original equipment to the car.

---
Information as of: October 2003

Owner: Norm Moren
Location: Belchertown, Massachusetts
Owned: August - October 2003 Mileage: 99,000
Condition: Show car
Originality: All factory original Accessories included: Dual Exhaust, Padded Dash, Spotlight, Power Steering, Power Brakes, Air Conditoner, 4-Way Manual Seat, Tinted Glass, Clock, Spinner Hubcaps, Radio, Heater, Windshield Washers Notes:
A very clean two-owner car from new. Old lacquer paint, all original interior, seats and door panels, and a very clean padded dash
A real eyecatcher, I think this is the most original 1960 4-door hardtop in the world. The car that others look at to see what this model looked like when it left the factory, this one is the best of a very low production.

Sold to a buyer in Delaware.
---
Information as of: September 2003

Owner: Dave Sinclair
Location: Eagle, Idaho
Owned: 1960 - 2003 Mileage: unknown
Condition: Show car
Originality: All factory original Accessories included: Dual Exhaust, Padded Dash, Spotlight, Power Steering, Power Brakes, Air Conditoner, 4-Way Manual Seat, Tinted Glass, Clock, Spinner Hubcaps, Radio, Heater, Windshield Washers Notes:
Original owner
---
©2011 Edsel.com All Rights Reserved