OU12W702725 <!- -->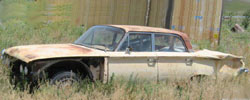 Dataplate specifications
Ranger, 4-door sedan, Jonquil Yellow
Gold vinyl/Brown cloth interior

292 Ranger V8, Mile-o-matic 2-speed transmission
Edsel number 702725 manufactured in Louisville, KY
---
Information as of: June 2007

Owner: unknown (online auction car)
Location: Albuquerque, New Mexico
Owned since: unknown Mileage: Well over 100,000
Condition: Parts car
Originality: N/A Accessories included: Radio, Notes:
It was running when it was parked after a wreck in the early 1985 (the driver's side rear quarter took a hard hit). Most of the car is there. A generator and coil are missing, some rust. A truck could get to it, but it is hard to roll due to the flat tires.

This car came from Hawaii in 1971 and spent the rest of it's life in the southwest. Hood and trunk won't open. The hubcaps are with the car; all the glass is good (rear windshield and front bumper are both inside the car). We think all chrome is in the truck, but not sure.
---
Information as of: 1971

Owner: H. E. McCracken
Location: Albuquerque, New Mexico
Owned since: unknown Mileage: unknown
Condition: unknown
Originality: unknown Accessories included: unknown Notes:
1971 research by R. Meek
---
©2007 Edsel.com All Rights Reserved