OU12W702650 <!- Second Line -->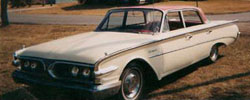 Dataplate specifications
Ranger, 4-door sedan, Polar White
Red vinyl/Gray cloth interior

292 Ranger V8, Mile-o-matic 2-speed transmission
Edsel number 702650 manufactured in Louisville, KY
---
Information as of: March 2002

Owner: noah8@bright.net
Location: Delta, Ohio
Owned since: 1999 Mileage: 75,000
Condition: Drives, but needs restoration
Originality: unknown Accessories included: unknown Notes:
This Edsel is in good shape for the year it is, motor runs good, painted two years ago, new brakes all around, keep garage since I've owned it. I got the car out of Dayton, OH. Originally came from Massachusetts. I have the bill of sale to it, but never had it's title.
All the chrome is there. I haven't put chrome on the right rear fender, the one I have is not in good shape.
The car will need to have both rear door glass and door panels put back on, also the door handles will need to be rechromed and in time the front end will need to be rechromed, same for the back bumper.
---
Information as of: August 1991

Owner: George Bell
Location: Tipp City, Ohio
Owned since: unknown Mileage: unknown
Condition: unknown
Originality: unknown Accessories included: unknown Notes:

---
Information as of: Pre-1991

Owner: Joseph Normile
Location: Buzzards Bay, Massachusetts
Owned since: unknown Mileage: unknown
Condition: unknown
Originality: unknown Accessories included: unknown Notes:

---
©2001 BE All Rights Reserved