OU13Y702636 <!- 63A HM1 24 20K 3 3 -->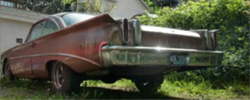 Dataplate specifications
Ranger, 2-door hardtop, Alaskan Gold Metallic with Polar White
Gold vinyl, brown cloth interior

352 Express V8, Mile-o-matic 2-speed transmission, 3.10:1 axle ratio
Edsel number 702636 manufactured in Louisville, KY on October 20, 1959
---
Information as of: May 2012

Owner: unknown (online auction car)
Location: Renton, Washington
Owned since: 1990 Mileage: unknown
Condition: Runs and drives
Originality: Repainted, vinyl seat upholstery Accessories included: Power Steering, Power Brakes, Air Conditioner Notes:
We have owned 9 1960 Edsels and this car is my dad's 'keeper' Edsel, but it's just sitting untouched for all these years so he decided to let someone else own his prized possession.
Sure the paint isn't nice and shiny, the interior is ratty but it just gives it a great vintage look! It has never been restored but it has been repainted once before. The carpet and interior door panels need replacing.
This Edsel has never been in an accident! It has the original body panels, fenders, doors, quarters as it was from the day it left the factory. Nothing is missing, this is a complete car.
The chrome is original, the trim mostly just needs to be polished and maybe straightened again in some places. There is some rust on the lower fenders, doors and rocker panels but it is all repairable.
It runs, drives and stops. The brakes cannot be compared to newer car's brakes, it takes a while to stop, but for me driving around the small town of Renton, WA, I don't have a need to go fast so it suits me just fine. It is not a race car, acceleration is not quick, it seems to just pleasantly glide along the street at a nice and sweet rate of speed.
I would not say this is drivable or fully reliable to take on the freeway or any long distance, I have just driven it around my area where I live and if something happens while in town we have friends who can help us out. I would suggest it be loaded on a flat bed trailer and taken to your destination.
---
Information as of: 1968

Owner: Al Garren
Location: Yucca Valley, California
Owned since: unknown Mileage: unknown
Condition: unknown
Originality: unknown Accessories included: Power Steering, Power Brakes, Air Conditioner Notes:
Car is for sale. (Accessories also list "R/H"?)

1968 research by R. Meek
---
©2012 Edsel.com All Rights Reserved