OU17W702570 <!- 71F M 50 20K 3 1 -->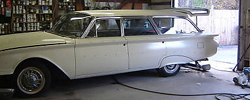 Dataplate specifications
Villager, 4-door 6-passenger wagon, Polar White
Silver/Black vinyl interior

292 Ranger V8, Mile-o-matic 2-speed transmission, 3.56:1 axle ratio
Edsel number 702570 manufactured in Louisville, KY on October 20, 1959
---
Information as of: September 2009

Owner: Daniel J. Earnshaw
Location: Edgewood, Maryland
Owned since: December 2008 Mileage: 116,384
Condition: In restoration
Originality: All parts are factory authentic Accessories included: Column Automatic Transmission, Power Steering, Whitewall Tires, Wheel Covers, Oil Filter, Heavy Duty Battery, Oval Side Mirror Notes:
This vehicle is now at the mechanic's shop having the engine rebuilt and other extensive work. From there, it will go to the paint shop to have this completed.
---
Information as of: November 2008

Owner: unknown (online auction car)
Location: Clemmons, North Carolina
Owned since: unknown Mileage: 116,384
Condition: In restoration
Originality: unknown Accessories included: Power Steering Notes:
I started this project in 2006, but back problems stopped the progress. A lot is done but more needs to be done. It is pretty much a complete car, only missing the left rear doorway step plate, antenna, headlight switch and I believe that's all.
All side trim is good with minor dings on some but very useable (some extra pieces), bumpers are decent drivers, grille has minor pitting as other chrome does, taillights polished clean w/2 new old stock red lenses. The windows are good but there's one chip spot on the windshield. Body work is all done with base paint on all but the tailgate, but it is under a nice primer. The right side door jambs and rear tailgate jambs are sprayed and cleared. The floorboard needs patches. Engine turned nice and tried to fire but the battery kept going down on me. The fuel tank is boiled out and coated.

I hope someone can finish this car and proudly enjoy it.
---
Information as of: 1968

Owner: Roger Hill
Location: Clinton, Maryland
Owned since: unknown Mileage: unknown
Condition: unknown
Originality: unknown Accessories included: unknown Notes:
1968 research by R. Meek
---
©2009 Edsel.com All Rights Reserved