OU15Y702534 <!- 76B M 56 18L 4 8 -->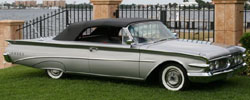 Dataplate specifications
Ranger, 2-door convertible, Polar White*
Black vinyl interior*

352 Express V8, Dual-Power 3-speed transmission, 2.91:1 axle ratio
Edsel number 702534 manufactured in Louisville, KY on November 18, 1959
---
Information as of: November 2007

Owner: Wm. Tom Gerrard
Location: Manalapan, Florida
Owned since: November 2002 Mileage: 8,045
Condition: Concourse/trailered museum piece
Originality: New factory-correct paint color and interior Accessories included: Lever-Temp Heater/Defroster, Air Conditioning, Column Automatic Transmission, Standard Radio, Dual Rear Deck Antennae, Power Steering, Power Seats, Power Windows, Power Brakes, Whitewall Tires, Wheel Covers with Spinner, Tinted Glass, Padded Dash and Sun Visors, Seat Belts, Rocker Panel Mouldings, Electric Wipers, Parking Brake Warning Light, Spotlight, Windshield Washer, Padded Sun Visors, Oil Filter, Extra Cooling Fan/Radiator, Heavy Duty Battery, Dual Exhaust, Exhaust Deflectors, No-Glare Rear-view Mirror, Courtesy Lights, Back-up Lights, Engine Compartment Light, Luggage Compartment Light, Glove Box Light, Locking Gas Cap * Notes:
Car underwent a 2-year full frame-off Concours restortation (2004-2005) during which the color was changed to Cloud Silver Metallic from it's original Polar White. Also the interior changed from it's original black vinyl to a factory correct Red and Silver.
---
Information as of: March 1989

Owner: Jim Marion
Location: Charleston, West Virginia
Owned since: 1983 Mileage: unknown
Condition: unknown
Originality: unknown Accessories included: unknown Notes:
---
Information as of: 1970s

Owner: Glen H. White
Location: Canton, Ohio
Owned since: unknown Mileage: unknown
Condition: unknown
Originality: unknown Accessories included: unknown Notes:
Research by R. Meek
---
Information as of: 1968

Owner: Joseph J. Vodyarka
Location: McKees Rocks, Pennsylvania
Owned since: unknown Mileage: unknown
Condition: unknown
Originality: unknown Accessories included: unknown Notes:
Research by R. Meek
---
©2007 Edsel.com All Rights Reserved