OU11W702528 <!- 63A -->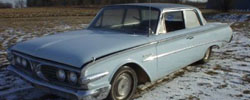 Dataplate specifications
Ranger, 2-door hardtop, Hawaiian Blue with Cadet Blue Metallic
Blue vinyl/Black cloth interior

292 Ranger V8, Mile-o-matic 2-speed transmission
Edsel number 702528 manufactured in Louisville, KY
---
Information as of: March 2003

Owner: unknown (online auction car)
Location: Minneapolis, Minnesota
Owned since: 1962 Mileage: unknown
Condition: Not Running but salvageable
Originality: All parts are factory authentic for the car Accessories included: Heater/Defroster, Standard Radio Notes:
One owner since 1962. This car has been in dry storage for the last 20 years. It does run, but will require all the things needed to bring back to life this rolling work of art-deco. Back when these cars were new, no one wanted them - now try and find one in this condition.

Original 2-tone blue appears to have had one repaint. Original interior. Rust in the center of the trunk floor. A small amount of of inner rocker rust, beautiful rust free floors. Beautiful front pot metal, rechromed bumpers, show quality tail light lenses and bezels. Slight dent in left rear quarter panel (my Masserati rolled into it). Quarter trim very repairable and no crease in the sheet metal.
---
Information as of: 1968

Owner: Tom Tutewohl
Location: Hastings, Minnesota
Owned since: unknown Mileage: unknown
Condition: unknown
Originality: unknown Accessories included: Heater/Defroster, Standard Radio Notes:
1968 research by R. Meek
---
©2002 BE All Rights Reserved