OU17W702416 <!- 71F A 25 07J 3 1 -->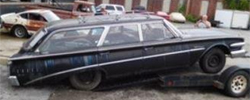 Dataplate specifications
Villager, 4-door 6-pass wagon, Black Velvet
Red vinyl/black cloth interior

292 Ranger V8, Mile-o-Matic 2-speed transmission, 3.56:1 axle ratio
Edsel number 702416 manufactured in Louisville, KY
---
Information as of: July 2015

Owner: unknown (online auction car)
Location: Columbus, Ohio
Owned since: unknown Mileage: 1,859
Condition: Barn Find (Needs restoration)
Originality: All parts are factory original Accessories included: Radio, Level-Temp Heater/Defroster, Wheel Covers with Spinner/Applique, Padded Dash and Visors, Windshield Washer, Roof Rack, Backup Lights Notes:
This is a very restorable car. It truly has 1,859 actual miles on it. It was purchased new in 1960 by Ira A. Merritt in West Virginia. Between 1960 and 1977, it was sold and repurchased by Mr. Merritt. In 1978, he passed away.
The car was driven sparingly up to that point. After passing, Mr. Merritt's heirs moved the car to Parkersburg, West Virgina.
In 2006, the car was moved to Pennsylvania. In 2010, it was moved back to West Virginia, where it sat outside. Mr. Merritt's great grandson purchased the car in October of 2014, where it sat on a trailer until it was brought to Columbus, Ohio in June of 2015.

The body is good but not perfect. The chrome and brightwork is very intact. The interior needs complete restoration but it is all there. The tailgate works as it should. The headliner and bows are intact. The engine compartment is solid, but one of the heirs decided that they were going to rebuild the engine, and removed the headers and intake manifold. The original air cleaner and valve cover gaskets, along with the heads and intake, are in the car.
Under the car is pretty solid. It will need at least three body mounts replaced.
---
Information as of: 1968

Owner: Ira Merritt
Location: Washington, West Virginia
Owned since: unknown Mileage: unknown
Condition: unknown
Originality: unknown Accessories included: unknown Notes:
1968 research by R. Meek
---
©2015 Edsel.com All Rights Reserved