OU12W702392 <!- -->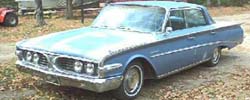 Dataplate specifications
Ranger, 4-door sedan, Cadet Blue Metallic with Polar White
Blue vinyl and black cloth interior

292 Ranger V8, 2-speed Mile-o-matic transmission, 3.10:1 axle ratio
Edsel number 702392 manufactured in Louisville, KY on October 17, 1959
---
Information as of: August 2006

Owner: Lars Gauffin
Location: Uppsala, Sweden
Owned since: July 2006 Mileage: 128,000
Condition: Drives very well
Originality: All parts are factory authentic Accessories included: Lever-Temp Heater/Defroster, Column Automatic Transmission, Radio, Dual Rear Deck Antennae, Rear Speaker, Power Steering, Power Brakes, Whitewall Tires, Wheel Covers, Tinted Glass, Spotlight, Positive-Action Windshield Wipers, Windshield Washer, Oil Filter, Heavy Duty Battery, Back-up Lights
---
Information as of: October 2003

Owner: unknown (online auction car)
Location: Togo, Minnesota
Owned since: 1998 Mileage: 121,000
Condition: Runs well
Originality: Non-Edsel seat vinyl Accessories included: Power Steering, Power Brakes Notes:
Engine: professionally rebuilt 1000 miles ago, new rebuilt crank, new cam, new pistons, rings, all bearings, hardened valve seats, all new valves, new oil pump, etc.
Transmission: no slippage, shifts slow into drive (possible weak pump or valve body).
Body: very solid and straight, no rust, car came originally from California and sat over 20 years in a museum in Nebraska before I bought it about 5 years ago. Never driven in MN salt and snow. Paint is over 30 years old, I started sanding some areas and temporarily primed them. The only body work I can find on the car is on the right rear quarter panel. Car must have been in a small fender bender in that area. Missing letters and stainless on that panel, but I have them. The rest of the stainless on the car is good. Some of the chrome has slight pitting, nothing major. All lights and turn signals work fine. All glass is good except for a crack in passenger door flat glass.
Interior: seats are newly recovered in black tufted vinyl, dash is very good and all gauges and lights work, carpet is ok for a driver, headliner seams are coming loose.
Tires: brand new Uniroyal Tiger Paw radials with less than 1000 miles on them.
Brakes: very good with new shoes, power booster has a vacuum leak and needs to be replaced or rebuilt.
Car is registered with a permanent MN 1960 license plate and has a clear title.

The car should be trailered, towed or shipped due to the transmission & brake problems. Gas tank is out of the car but runs on a can in the trunk. Tank needs to be cleaned and coated.
---
Information as of: 1968

Owner: G. M. Clema
Location: Anaheim, California
Owned since: unknown Mileage: unknown
Condition: unknown
Originality: unknown Accessories included: unknown Notes:
1968 research by R. Meek
---
©2006 Edsel.com All Rights Reserved