OU15W702286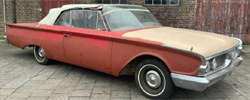 Dataplate specifications
Ranger, 2-door convertible, Regal Red
Red and Silver vinyl interior

292 Ranger V8, Mile-o-Matic 2-speed automatic transmission, 3.10:1 axle ratio
Edsel number 702286 manufactured in Louisville, KY on October 16, 1959
---
Information as of: May 2013

Owner: unknown
Location: Pennsylvania
Owned since: 1996 Mileage: 86,000 (showing)
Condition: In Restoration
Originality: Stock with color change Accessories included: Radio, Carpet, Wide Whitewall Tires Notes: Revived from junkyard in 1995 or '96. Now up and running with rebuilt 292 and 2-speed Mile-o-matic.
The photo is the car as it's prepared for the paint booth.
---
Information as of: June 1994

Owner: David Zimmerman
Location: N/A
Owned since: N/A Mileage: N/A
Condition: N/A
Originality: N/A Accessories included: N/A Notes: As reported in the Edsel Owners Club "Greenline" newsletter, only the dataplate exists.
---
Information as of: 1968

Owner: Rusty Zimmer / Ada Auto Sales
Location: Ada, Ohio
Owned since: unknown Mileage: unknown
Condition: unknown
Originality: unknown Accessories included: unknown Notes:
1968 research by R. Meek
---
©2013 Edsel.com All Rights Reserved