OU13Y702275 <!- 63B -->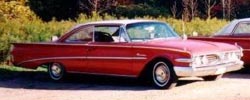 Dataplate specifications
Ranger, 2-door hardtop (deluxe interior), Regal Red with Polar White


352 Express V8, Dual-Power 3-speed transmission
Edsel number 702275 manufactured in Louisville, KY
---
Information as of: January 2002

Owner: Jeff
Location: Marne, Michigan
Owned since: unknown Mileage: 57,000
Condition: Runs and drives well
Originality: Stock, with non-Edsel interior Accessories included: Rocker Panel Mouldings, Windshield Washer, Dual Exhaust Notes:
Has newer brakes, master cylinder, shocks and new front windsheild. Body is solid and has had new lower quarters and fender heals but car needs fresh paint and there are a few bubbles in the paint in a few spots. Floors are very nice but trunk has had some sheetmetal patch work but is solid. Rear bumper is off car at the present time and needs some minor repair and rechrome but is in decent shape. I have original hupcaps and original valve covers and air cleaner to go with the car that are not on the car as it has chrome air cleaner and valve covers on right now. Rest of chrome and trim are better than average for the age. The car is only missing one part that I know of which is it has one incorrect door sill plate that is from a 60 Ford.
---
Information as of: 1968

Owner: Charles Snedegar
Location: Norwood, Ohio
Owned since: unknown Mileage: unknown
Condition: unknown
Originality: unknown Accessories included: unknown Notes:
1968 research by R. Meek
---
©2003 BE All Rights Reserved