OU11Y702105 <!- 64A J 15 14K 4 8 -->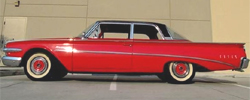 Dataplate specifications
Ranger, 2-door sedan (deluxe interior), Regal Red
Red vinyl, gray cloth interior

352 Express V8, 3-speed Dual Power automatic transmission, 2.91:1 axle ratio
Edsel number 702105 manufactured in Louisville, KY on October 14, 1959
---
Information as of: July 2013

Owner: unknown (auction car)
Location: Palm Springs, California
Owned since: unknown Mileage: 80,201
Condition: Excellent
Originality: New paint, upholstery, headliner, carpet Accessories included: Power Steering, Radio, Wide Whitewall Tires, Wheel Covers with Spinner, Back-up Lights Notes:
A three-owner, 80,000-mile car, it is a veritable time capsule.
No known issues. Even the clock works!
---
Information as of: December 2005

Owner: unknown (auction car)
Location: Branson, Missouri
Owned since: October 16, 2005 Mileage: unknown
Condition: #3
Originality: Refurbished Accessories included: unknown Notes:
This car was sold at the Branson auction October 14-16, 2005 for $9,166.
New seats. Running beautifully, #3 condition
---
Information as of: 1968

Owner: G. L. Schroeder
Location: Homewood, Illinois
Owned since: unknown Mileage: unknown
Condition: unknown
Originality: unknown Accessories included: unknown Notes:
1968 research by R. Meek
---
©2013 Edsel.com All Rights Reserved