OU11W702084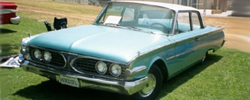 Dataplate specifications
Ranger, 2-door sedan, Medium Turquoise Metallic with Polar White top
Deluxe Turquoise Champagne cloth interior

292 Ranger V8, Mile-o-matic 2-speed transmission
Edsel number 702084 manufactured in Louisville, KY on October 14, 1959
---
Information as of: September 2000

Owner: Andrea 'Enthal
Location: Agoura Hills California
Owned since: November 25, 1959* Mileage: 220,000 (give or take - odometer didn't work during much of the 1970's)
Condition: Drives well. Looks decent. Will never be a trailer queen, but it gets around.
Originality: Other than the radial tires, nothing has been done to deliberately change it from how it was born. It has lost some things over the years, gained others (people keep repainting my engine for me - always a surprise, and always a color they think is cool, but I didn't want) but the outside remains orignal color, repro to original interior has been added. It is basically stock. Accessories included: Power Steering, Deluxe B-interior (Turquoise Champagne cloth), Back-up Lights, Clock, Radio, Carpeting, Wheel Covers, Padded Dash (long gone - dried up, but it had it when new).

Was manufactured without tinted glass but over the years the windows were replaced and I discovered that tinted glass had been used. I didn't ask for it. The person replacing the windows thought tint was a bonus, so changed it and surprised me with that after the fact.

No power brakes, exterior rear view mirrors or air conditioning (may get some, someday).

Notes:
*My father bought it new to drive me in the kindergarten carpool from Alexander Motors of Trenton, NJ. The deal was actually made for it on November 19, and we took delivery on the 20th, but the bill of sale is the 25th because that was the day he wrote Alexander the check.
---
©2000 Edsel.com All Rights Reserved