OU14Y702054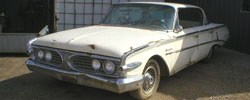 Dataplate specifications
Ranger, 4-door hardtop, Polar White
Red vinyl/Black cloth interior

352 Express V8, Dual-Power 3-speed transmission, 2.91:1 axle ratio
Edsel number 702054 manufactured in Louisville, KY
---
Information as of: September 2005

Owner: unknown (online auction car)
Location: Montrose, California
Owned since: unknown Mileage: 17,389
Condition: Runs, needs TLC
Originality: Non-Edsel wheels Accessories included: Power Steering, Radio Notes:
This car sat in a barn for the last 37 years before coming to me. It is a one owner car. The mileage is probably 117,000 miles, but we have no way of telling.
The windshield and the two driver's side windows are cracked. The passenger side glass and the tailshield (back glass) are good. The seats have aftermarket seat covers, but the original upholstery is under it.
We started the engine and it seemed to run well. While we did not drive it, we did put in drive and reverse and it would move the car.
The body has surface rust and a couple of spots where it rusted through. The underneath side is actually pretty clean. The rust seems to be concentrated in exterior areas. The trunk floor and the floor pans appear to be overall solid. There is one small spot in the trunk that has rusted through.
---
©2005 Edsel.com All Rights Reserved