OU13W702011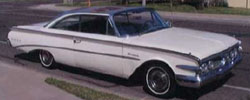 Dataplate specifications
Ranger, 2-door hardtop, Polar White with Cadet Blue Mettalic
Blue vinyl/Black cloth interior

292 Ranger V8, Mile-o-matic 2-speed transmission, 3.10:1 axle ratio
Edsel number 702011 manufactured in Louisville, KY on October 12, 1959
---
Information as of: January 2005

Owner: James Swank
Location: Bakersfield, California
Owned since: February 2004 Mileage: unknown
Condition: Not Running but salvageable
Originality: All parts are factory authentic Accessories included: Lever-Temp Heater/Defroster, Column Automatic Transmission, Standard Radio, Whitewall Tires, Wheel Covers, Padded Dash and Sun Visors, Two-tone Paint, Back-up Lights Notes:
Car was rescued from a body shop after the previous owner gave up on it. I hope someday to restore it, but for now it's a like a giant model kit with no instructions.
---
Information as of: October 2003

Owner: Randy Portwood
Location: San Francisco, California
Owned since: unknown Mileage: unknown
Condition: Drives, but needs restoration
Originality: unknown Accessories included: unknown Notes:
The trunk lid, hood and roof are all mint and rust-free. The rockers are solid. The trunk floor has rust-through and must be replaced. Both front fenders have minor rust behind the wheel opening, and both rear quarters have rust. Patch panels are provided for the repair of same. The driverís door is fine, but the passenger door has rust bubbles on the bottom. The chrome/pot metal is in good/nice condition. The car needs a passenger side rear quarter window, and also needs a driverís door window which I have. The interior is original and needs full cosmetic restoration. The engine runs fine, but needs carburetor work. It is possible that the engine has been rebuilt, as it has been painted Ford blue, which is incorrect for the 1960 Edsel. It will need brakes before it can be driven.
---
Information as of: May 1, 2000

Owner: Russ Waterhouse
Location: Renton, Washington
Owned since: unknown Mileage: unknown
Condition: Drives, but needs restoration
Originality: unknown Accessories included: unknown Notes:

---
©2003 BE All Rights Reserved