OU13W702010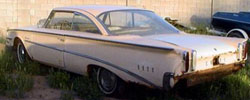 Dataplate specifications
Ranger, 2-door hardtop, Sahara Beige
Gold vinyl/Brown cloth interior

292 Ranger V8, Mile-o-matic 2-speed transmission, 3.10:1 axle ratio
Edsel number 702010 manufactured in Louisville, KY on October 12, 1959
---
Information as of: May 2003

Owner: unknown (online auction car)
Location: Phoenix, Arizona
Owned since: unknown Mileage: unknown
Condition: Not Running but salvageable
Originality: All parts are factory authentic for the car Accessories included: unknown Notes:
An extremely rare car - only 295 were built before Edsel production was shut down. It needs total restoration of all components. It is mostly complete, the rear bumper is in the trunk.

The engine and transmission are all there and original, but the engine is apparently stuck. It has not run for at least 15 years. Plan on having to rebuild everything.

The vehicle is very straight, but will require extensive rust repairs in the trunk pan, floor pan, and lower rear quarter panels. There is no hidden Bondo and most of the paint is original except for the hood and deck lid which came off a white car. You will need a parts car to donate the sheet metal necessary to restore this car, unless you want to make it into a street rod and don't require originality.

The pot metal is in good condition in general, most pieces have minor pitting. The driver side turn signal housing was broken, and the passenger side rear quarter moulding fell off the car and was lost. Both rear quarter panel letters "L" are missing.
---
Information as of: May 1, 2000

Owner: Russ Waterhouse
Location: Renton, Washington
Owned since: unknown Mileage: unknown
Condition: Motor is frozen, has rust and needs total restoration
Originality: unknown Accessories included: unknown Notes:

---
Information as of: 1968

Owner: Robert L. Grant
Location: Auburn, Washington
Owned since: unknown Mileage: unknown
Condition: unknown
Originality: unknown Accessories included: unknown Notes:
Research by R. Meek
---
Information as of: 1968

Owner: M. J. Lilly
Location: Enumclaw, Washington
Owned since: unknown Mileage: unknown
Condition: unknown
Originality: unknown Accessories included: unknown Notes:
Research by R. Meek
---
©2003 BE All Rights Reserved