OU15W701946 <!- 76B K 56 12K 3 3 -->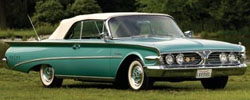 Dataplate specifications
Ranger, 2-door convertible, Turquoise Metallic
Two-tone Turquoise vinyl interior

292 Ranger V8, Mile-o-matic 2-speed transmission, 3.10:1 axle ratio
Edsel number 701946 manufactured in Louisville, KY on October 12, 1959
---
Information as of: September 2006

Owner: Jerry Capizzi
Location: Chicago, Illinois
Owned since: unknown Mileage: unknown
Condition: Show car
Originality: Restored to original Accessories included: Air Conditioner, Radio, Dual Rear Deck Antennas, Power Steering, Power Brakes, Whitewall Tires, Wheel Covers with Spinner, Padded Dash and Sun Visors, Rocker Panel Mouldings, Dual Spotlight Mirrors, Windshield Washer, Dual Exhaust, Exhaust Deflectors, Back-up Lights Notes:
(From RM Auction's "The Cappy Collection" text):
"Very rare, with less than ten known to exist, loaded with every available option.&nsbp; Stunning frame-off restoration. Senior National Show winner."

Preview November 9-11, 2006. Auction estimates ran as high as $140,000.
On November 11, 2006, the car sold for $184,250.
---
Information as of: June 1994

Owner: The Gast Museum
Location: Pennsylvania
Owned since: unknown Mileage: unknown
Condition: Completely restored museum piece
Originality: unknown Accessories included: unknown Notes:
---
Information as of: March 1989

Owner: Steve Edwards
Location: Oakland, California
Owned since: 1989 Mileage: unknown
Condition: unknown
Originality: unknown Accessories included: unknown Notes:
---
Information as of: 1968

Owner: Mike Pomidoro
Location: Albany, New York
Owned since: unknown Mileage: unknown
Condition: unknown
Originality: unknown Accessories included: unknown Notes:
1968 research by R. Meek
---
©2006 Edsel.com All Rights Reserved