OU14W701918 <!- 57B T K -->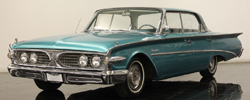 Dataplate specifications
Ranger, 4-door hardtop, Sherwood Green Metallic
Turquoise vinyl and cloth deluxe interior

292 Ranger V8, automatic transmission
Edsel number 701918 manufactured in Louisville, KY
---
Information as of: July 2011

Owner: St. Louis Car Museum
Location: St. Louis, Missouri
Owned since: unknown Mileage: 49,157 original
Condition: Runs and drives well
Originality: New seat and door upholstery, non-Edsel engine color/components Accessories included: Power Steering, Power Brakes, Radio, Rear Speaker, Lever-Temp Heater, Windshield Washer Notes:
We just acquired this car from it's 2nd owner who has owned it since the late 1970s. The original owner purchased the car new in California. He knew it was destined to be special and was an early member of the Edsel Club. He showed the car through the mid 1970s and h as first place trophies from International meets. He became ill and it was then sold to the people we got it from.

The car has been repainted it's original Turquoise Metallic years ago. Due to the hot Arizona sun, the second owner replaced the interior in Turquoise vinyl. The California/Arizona climate has kept this car AMAZINGLY rust free. The car runs and drives well with no quirks or oddities. Only 31 of the four door hardtops were built with the deluxe (Corsair) trim, so in that regard it is the rarest of all Edsels.
---
Information as of: 1972

Owner: George C. Erickson
Location: Bellingham, Washington
Owned since: unknown Mileage: unknown
Condition: unknown
Originality: unknown Accessories included: Radio, Rear Speaker, Lever-Temp Heater Notes: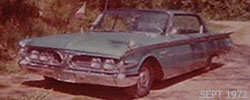 Research by R. Meek

---
©2011 Edsel.com All Rights Reserved