OU11V701881 <!- -->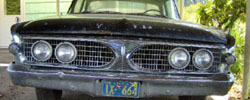 Dataplate specifications
Ranger, 2-door sedan, Sherwood Green Metallic
Green vinyl, brown pebble cloth interior

223 Econo-Six, 3-speed manual transmission
Edsel number 701881 manufactured in Louisville, KY
---
Information as of: June 2007

Owner: unknown (online auction car)
Location: Independence, Oregon
Owned since: Pre-1971 Mileage: 51,685
Condition: Runs but needs work
Originality: New paint scheme Accessories included: Radio Notes:
This car has been in storage since 1971. The floor pans are solid and the trunk is nearly solid. The body is straight, but has some rust on the driver's side lower rear quarter below the trunk. An easy restoration, with some paint and interior work.

The car has a color code of "T" (Sherwood Green Metallic), but years ago somebody painted it black. The engine runs but the carburetor is in poor condition.
---
Information as of: 1968

Owner: Jim Mason
Location: Lake Oscedo, Oregon
Owned since: unknown Mileage: unknown
Condition: unknown
Originality: unknown Accessories included: unknown Notes:
1968 research by R. Meek
---
©2007 Edsel.com All Rights Reserved