OU15W701715 <!- 76B R 56 08K 3 3 -->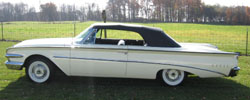 Dataplate specifications
Ranger, 2-door convertible, Petal Yellow
Black vinyl interior

292 Ranger V8, Mile-o-matic 2-speed transmission, 2.91:1 axle ratio
Edsel number 701715 manufactured in Louisville, KY on October 8, 1959
---
Information as of: November 2007

Owner: unknown (online auction car)
Location: Akron, Indiana
Owned since: unknown Mileage: 27,519
Condition: Show car
Originality: Restored to original Accessories included: Power Steering, Wheel Covers with Spinner, Dual Exhaust, Radio, Under-dash Air Conditioner, Padded Dash, Carpet, Back-up Lights Notes: This 1960 Edsel Ranger received a complete frame-off restoration 12 months ago with only 10 miles being added to this North Carolina rust free car since. Nothing was overlooked on this beautiful rare car! The factory color of Buttercup yellow Base coat/clear coat was added after the car was completely stripped to bare metal. All the trim was removed and buffed, replated or replaced with new if available. On a scale of 1 to 10, 10 being the best, this car is a strong 9+ if not a perfect 10. You will be looking long and hard to find anything to complain about on this car.

The 292ci engine runs great and the Mile-O-Matic transmission shifts nice and smooth. The car has factory A/C that works and blows nice and cold, factory mats and a power top.
The black vinyl interior is new, and it all looks fantastic! The dash, seats, dash cluster and carpet are all in excellent condition.
---
Information as of: June 1994

Owner: Mike Stephens
Location: Indiana
Owned since: unknown Mileage: unknown
Condition: unknown
Originality: unknown Accessories included: unknown Notes:
---
Information as of: March 1994

Owner: Charlie Wells
Location: Medina, Ohio
Owned since: 1982 Mileage: unknown
Condition: unknown
Originality: unknown Accessories included: unknown Notes:
---
Information as of: 1968

Owner: Allen Payne
Location: McComb, Illinois
Owned since: unknown Mileage: unknown
Condition: unknown
Originality: unknown Accessories included: unknown Notes: 1968 research by R. Meek
---
©2007 Edsel.com All Rights Reserved