0U11Y701576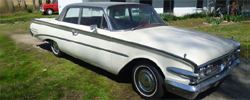 Dataplate specifications
Ranger, 2-door sedan, Polar White
Red vinyl/Black cloth interior

352 Express V8, Dual-power 3-speed transmission, 2.91:1 axle ratio
Edsel number 701576 manufactured in Louisville, KY on October 7, 1959
---
Information as of: April 2011

Owner: unknown (online auction car)
Location: Spavinaw, Oklahoma
Owned since: unknown Mileage: 76,634
Condition: Drives, but needs restoration
Originality: Quarter panel letters replaced w/chrome bars, non-Edsel wheel covers Accessories included: Column Automatic Transmission, Radio, Power Steering, Two-tone Paint, Oil Filter Notes:
Starts, runs and drives well. This car has been in dry storage for 20 years.
Has new master cylinder and brake cylinders, and new fuel pump. Still needs carburetor rebuild and probably needs a full tune up.
The 352 ci engine; column shift automatic transmission and differential all appear to be in good condition. The U-joints sound a little clunky.
The dash, instruments and door panels all look good. The headliner looks pretty good but has some stitching coming loose. The front seat shows some wear. All the glass is excellent. The floor pans seem fine and the trunk seems solid.
The body is straight with no dents or signs of major repair. The stainless trim is bright and has only a few dings. All stainless is there except for a small molding at the rear bottom of the rear quarter panel (you don't notice it's missing unless you look for it).
Bumpers and grill are very nice except for a small quarter-sized dent in the front bumper. A tail light lense and a parking light lense are cracked.
The paint is probably an old repaint and looks pretty good. This is a good looking, solid car that can be tuned up and driven as is.
---
Information as of: February 2006

Owner: Townsend Motors
Location: Shawnee, Oklahoma
Owned since: January 1990 Mileage: 76,600
Condition: Drives, but needs restoration
Originality: Stock, with some updated parts Accessories included: Column Automatic Transmission, Radio, Power Steering, Wheel Covers with Spinner, Two-tone Paint, Electric Wipers, Oil Filter Notes:
This car is currently in a museum and for sale on eBay. It will need to be cleaned and serviced.

<!- P HR P --> <!- A HREF= http: www.vector11.com/edselcom/gallery/e60/e60701576.jpg Gallery Link /A --> <!- P HR P -->
---
©2011 Edsel.com All Rights Reserved