OU11W701555 <!- 64A JM1 25 07K 3 3 -->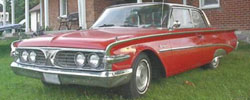 Dataplate specifications
Ranger, 2-door sedan, Regal Red with Polar White
Red vinyl/Black cloth interior

292 Ranger V8, Mile-o-matic 2-speed transmission, 3.10:1 axle ratio
Edsel number 701555 manufactured in Louisville, KY on October 7, 1959
---
Information as of: July 2007

Owner: unknown (online auction car)
Location: East of Peterborough, Ontario, Canada
Owned since: unknown Mileage: 92,293
Condition: Drives well, needs minor restoration
Originality: All parts are factory authentic for the car Accessories included: Radio, Wheel Covers Notes:
This car is originally from Western Canada and has minimal rust. It was undercoated many years ago. This Edsel is a daily driver for the owner who has driven it to many locations - near and far. So it is ready to go cruising. Paint is fair, but the driver's side was re-painted at one time by a previous owner.

Left Side passenger window is cracked due to a stone hitting it. It will need new carpet and new seat covers. Muffler has been repaired. Runs good.
---
©2007 Edsel.com All Rights Reserved