0U15Y700988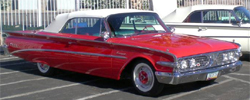 Dataplate specifications
Ranger, convertible, Regal Red
Red/Silver vinyl interior

352 Express V8, Dual-Power 3-speed automatic transmission, 2.91:1 axle ratio
Edsel number 700988 manufactured in Louisville, KY on September 30, 1959
---
Information as of: June 2010

Owner: Bob & Alice Ray
Location: Arizona
Owned since: November 2007 Mileage: unknown
Condition: Concourse/trailered showpiece
Originality: All parts are factory authentic Accessories included: Air Conditioning, Dual Rear Deck Antennae, Power Steering, Power Brakes, Whitewall Tires, Wheel Covers with Spinner, Tinted Glass, Padded Dash and Sun Visors, Electric Wipers, Parking Brake Warning Light, Dual Spotlights, Windshield Washer, Extra Cooling Fan/Radiator, Heavy Duty Battery, Dual Exhaust, Exhaust Deflectors, No-Glare Rear-view Mirror, Remote Trunk Release, Back-up Lights, License Plate Frames, Fender Skirts Notes:
AACA National 1st place winner. This car received a complete 2-1/2 year rotisserie restoration.
---
Information as of: January 2008

Owner: Barry Norman
Location: Phoenix, Arizona
Owned: 2000 - 2007 Mileage: unknown
Condition: In restoration
Originality: unknown Accessories included: unknown Notes:
Much of the car was disassembled as part of the restoration process, but when storage of the car became an issue, the owner was forced to sell it.
---
Information as of: January 2008

Owner: Dick Nelson
Location: New Mexico
Owned: 1971 - 2000 Mileage: unknown
Condition: unknown
Originality: unknown Accessories included: unknown Notes:


<!- P HR P --> <!- A HREF= http: www.vector11.com/edselcom/gallery/e60/e60700988.jpg Gallery Link /A --> <!- P HR P -->
---
©2010 Edsel.com All Rights Reserved