OU12Y700868 <!- 58A CM1 20 28J 4 8 -->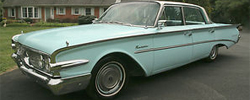 Dataplate specifications
Ranger, 4-door sedan, Turquoise with Polar White
Silver vinyl/Black cloth interior

352 Express V8, Dual-Power 3-speed transmission, 2.91:1 axle ratio
Edsel number 700868 manufactured in Louisville, KY on September 28, 1959
---
Information as of: September 2013

Owner: unknown (online auction car)
Location: Havre de Grace, Maryland
Owned since: 2009 Mileage: 24,834
Condition: Needs minor restoration
Originality: Stock Accessories included: Power Steering, Power Brakes, Wheel Covers Notes:
Nice, rare 1960 Edsel. I purchased this in 2009 from a couple in Des Moines, IA. They purchased it from an elderly man out there who collected Edsels. It had been last run in the 1970's and he put it in the barn when the brake hose burst. They purchased it from him and pulled it out of the barn, took it home and started her up, replaced the brakes, new tires tune up and that sort of thing and I bought it.

I flew into Des Moines with two of my daughters for a great adventure. We drove it from Iowa back to Maryland without a hitch! Since then, I have spent several thousand dollars doing everything thing from having new rear leaf springs, installing lots of NOS parts, which include, I believe, a clock and radio. I installed NOS brake, back up and other lenses, bought a restored steering wheel and a super horn ring, replaced various rubbers around the vehicle like the trunk rubber and some door bumpers. I had a lot of the chrome removed and rechromed at Metal-Brite in Ohio, to include most of the front grill pieces (it is beautiful), the letters around the car, etc. I put on an NOS antenna. The seats are beautiful and are protected by plastic covers. I had the seat area professionally repaired with original fabric from SMS Auto Fabrics. I have lots of documentation and receipts in a file that I will give you with the car and wrote lots down but many things I didn't write down so I am putting them here.

I have also rebuilt the power steering pump, new ps hose, replaced fuel pump, painted and detailed the engine compartment, air cleaner and valve covers, added correct new battery cables, manifold resurfaced, new fuel sending unit, new choke assembly, new rear stone reflector pad behind rear bumper (really looks nice), plug wires, and new water pump. The ignition switch should be replaced although it is functional. The front right floor pan needs to be addressed, I never got around to it. The rear wheel wells have some rust. The paint job is from the 1970's but good for its age. This car has the 1960's oil change stickers in the door jamb and an Allstate Insurance sticker on the rear window that looks to be from the 60's, and it is on the exterior! So this car was inside most of its life. I did a lot of detailing under the hood and had the radiator recored. I am a total stock guy so I spent a lot of time just hunting around for stock parts. I enjoyed just playing around with it and improving here and there.

This car is 53 years old and is good for its age. It runs well and has been a pleasure. It has been very reliable for me. It is not a show car and I like it that way. I can enjoy it more.
---
Information as of: July 2009

Owner: unknown (online auction car)
Location: Kelley, Iowa
Owned since: 1975 Mileage: 22,120
Condition: Needs minor restoration
Originality: Stock Accessories included: Power Steering, Power Brakes, Wheel Covers Notes: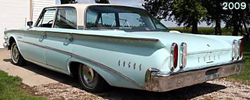 Original, very clean. Locally owned by an older gentlemen since 1975, in recent years has been stored and not driven. Shows 22120 miles but cannot verify as actual. The interior shows some wear, the fabrics are old but mostly intact, the vinyl is nice (the seats were covered in 50's-era clear covers until recently). The exterior is well above average with very minor surface flaws, very nice original chrome in massive amounts. The 352 V8 engine runs well, transmission seems solid. The tires need to be replaced as they are the original type nylon and have been on this car most likely since the '70's. The brakes WILL be in working order by the end of this auction with new master cylinder, some brake lines, and wheel cylinders.
There is some rust in the rear inner wheel wells and a small area in the front passenger pan. The trunk is in excellent condition, original jack and tire irons are included. No owner's manual.
This car could be used "as is" and showed, or a great car to restore. It has all the usual tune up needs and small leaks from not being driven and maintained, but is an incredibly solid, smooth vehicle.
---
Information as of: 1975

Owner: Forest Smith
Location: Marshalltown, Iowa
Owned since: unknown Mileage: unknown
Condition: unknown
Originality: unknown Accessories included: unknown Notes:

---
Information as of: 1968

Owner: Robert B. Mavis
Location: Carlisle, Iowa
Owned since: unknown Mileage: unknown
Condition: unknown
Originality: unknown Accessories included: unknown Notes:
1968 research by R. Meek
---
©2013 Edsel.com All Rights Reserved