OU11W700826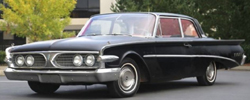 Dataplate specifications
Ranger, 2-door sedan, Black Velvet
Red vinyl/Black cloth interior

292 Ranger V8, Mile-o-matic 2-speed transmission, 3.10:1 axle ratio
Edsel number 700826 manufactured in Louisville, KY on September 28, 1959
---
Information as of: October 2016

Owner: Mainly Muscle Cars
Location: Monroe, Washington
Owned since: unknown Mileage: 19,882
Condition: Runs and drives
Originality: Stock Accessories included: Column Automatic Transmission, Radio, Whitewall Tires, Wheel Covers, Oil Filter, Back-up Lights Notes:
This car is not a show car, and should be classified as a basic driver. An older repaint of the Black Velvet color has long faded and begun to show it's imperfections. There are rusty spots here and there on the car, and it's due for some body work and TLC.
Overall though, the car looks ok at a distance and drives straight down the road. The interior has seen some use, but looks to be the original, save for the carpet which has been recently replaced with new. The dash is in good shape and still boasts the original radio and gauges. The automatic transmission shifts out nicely and the V8 moves the car down the road.
---
Information as of: May 2006

Owner: June Bledsoe
Location: Douglasville, Georgia
Owned since: February 1999 Mileage: unknown
Condition: Bearly running/does not drive
Originality: All parts are factory authentic Accessories included: Column Automatic Transmission, Standard Radio, Whitewall Tires, Wheel Covers, Electric Wipers, Oil Filter, Oval Side Mirror, Back-up Lights, Locking Gas Cap Notes: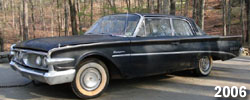 Previous owner was my father. Car was driveable, but needs carburetor work. Could be restored for show car. Body and interior in good condition.

---
Information as of: 1968

Owner: Gordon Culpepper
Location: Sylvester, Georgia
Owned since: unknown Mileage: unknown
Condition: unknown
Originality: unknown Accessories included: unknown Notes:
1968 research by R. Meek

<!- P HR P --> <!- A HREF= http: www.vector11.com/edselcom/gallery/e60/e60700826.jpg Gallery Link /A --> <!- P HR P -->
---
©2016 Edsel.com All Rights Reserved